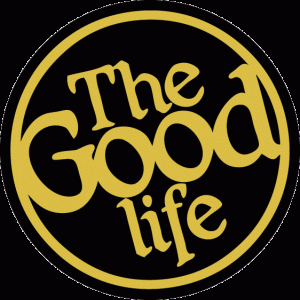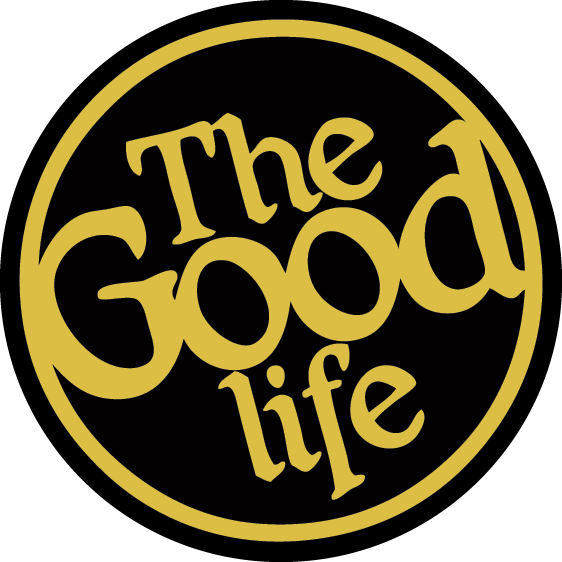 Imma be livin' that good good life.
Burgers Ordered: Erin – The Patty Melt, Christopher – The Good Life Burger
The Experience: The Good Life is a nice sit down, pub style restaurant. They do high-end pub food and have an expansive beer menu. You can dine inside or out and the service is impeccably friendly. The menu features a variety of appetizers, soups, sandwiches, entrees, and desserts.
This ain't your daddy's mac & cheese.
The Taste: Christopher & Erin could not resist beginning their meal with The Good Life's famed Fried
Mac & Pepper Jack which is topped with a Cajun Ranch Drizzle. They reveled in their deep fried
goodness and thoroughly enjoyed the Drizzle, wishing they had more.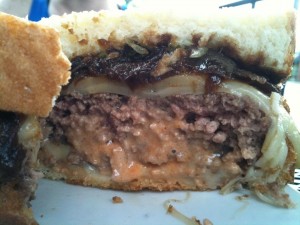 Patty melt, Texas style.
Erin, being a huge fan of Patty Melts, decided to experience the Good Life's version of the diner
classic and ordered it cooked medium with a side of tater tots. It contained a burger with caramelized
onion jam, Russian dressing, and Gruyere cheese, served on Texas toast. Erin admitted to not being
the biggest fan of Gruyere and thought that having some on top and on bottom was a bit overkill.
However she really enjoyed the patty itself and the onion jam. She also said that while she really
liked Good Life's take, this was not what she usually has in mind when she orders a patty melt. The thickness
of the Texas toast in particular skewed away from the traditional grilled rye. Overall, she was pleased with
this upscale melt. She also said that the crispy tots were some of the best she had ever had.
Christopher decided to go with the restaurant's namesake, the Good Life Burger. He asked for it cooked the
Burgermeister standard way; medium rare with a side of fries. This burger features Gruyere cheese, bleu
cheese fondue, and bacon jam served on a white roll. The first thing that he noticed was the slam
dunk flavor combination of the Gruyere and bleu cheese fondue. Next on the hit parade was the delicious bacon jam and the perfectly cooked juicy patty. The only miss as far as he was concerned was the plain white roll. This fantastic burger would have been better served upon a buttery brioche bun. The fries were nicely dusted with just the right amount of sea salt and he was left wishing for more of them.
The Verdict: If you venture out to Massapequa Park or the surrounding area, The Good Life is highly
recommended as their burgers were top notch with service to match.

The Good Life is located at 1039 Park Blvd. Massapequa Park, New York.