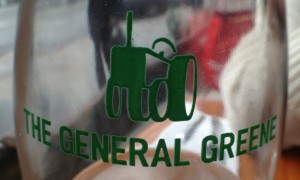 Burgers Ordered: The General Greene Burger
The Experience: Burger Adventures, we have learned, can be dictated by fate. The Burgermeisters had a Sunday evening engagement in Prospect Heights, and thus were looking for a Brooklyn Burger Adventure that worked geographically. After consulting the Upcoming Adventures list and coming up with a few options, they decided to check out the Burger Bistro in Park Slope. However, a navigational error landed them at the front door of The General Greene in Fort Greene instead. Though slightly embarrassed, Burgermeister Brad decided that it was fate, as a table near a window with fantastic lighting for photographic burgers was available upon there arrival. So they dined at the General Greene.
The Fort Greene spot was hustling and bustling with the Sunday brunch crowd, but the wait staff (afro'd and mullet'd as they were) had everything in hand. The Burgermeisters ordered the General Greene Burger, a grass fed angus beef patty topped with caramelized shallots, herb mayo and white cheddar (for a dollar more. For two dollars grilled slab bacon can also be yours). The burger comes with fries and a salad. Burgermeister Brad was wary of the grass-fed label, as his experience with this kind of meat rearing at Back Forty was less than stellar. His tune changed dramatically after this meal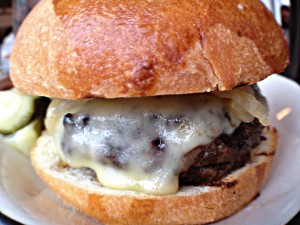 The Taste: Whether or not you want to eat at the General Greene after this review will be a matter of whether you put more stock into consistency or potential. Burgermeister Brad LOVED his burger. Pretty much everything about it made him smile. From the brioche bun to the perfectly seasoned and juicy patty, he was as happy as could be. The cheese was tasty but understated, as were the shallots. The burger was a decent size, keeping Brad full but not overly stuffed for the rest of the afternoon.
Burgermeister Rebecca had a different experience. From the first bite she was disappointed. Being less of a seasoned Burgermeister than Brad, she kept second guessing her opinion. Could it be that this was a great burger and only tasted bland because she was in the wrong mindset from the beginning? The mystery was put to rest when Brad took a bite of the leftover burger that Rebecca didn't finish and discovered that her patty was not seasoned nearly as well as his. Rebecca was sad that her meal wasn't delicious (aside from her fries, which both Burgermeisters agreed were fantastic), but vindicated that her taste buds weren't betraying her.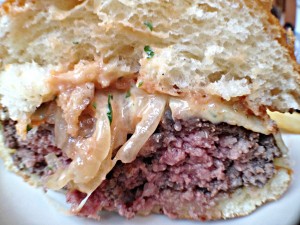 The Verdict: Though inconsistent, the General Greene proved that they are capable of making an outstanding burger. It may be a bit of a gamble, but Brad insists that you put your money down in Fort Greene and hope for the best.
The General Greene is located at 229 Dekalb Avenue at Clermont Avenue in Brooklyn, NY.