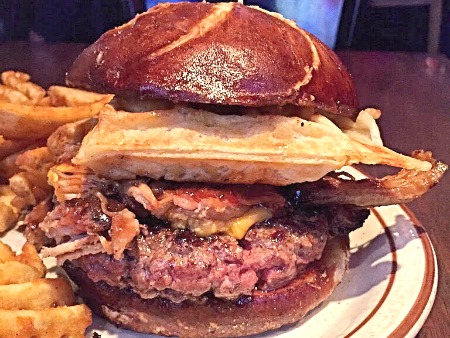 Burger places have taken me to several areas in the city, but none more than Ukrainian Village. Ukrainian Village is similar to Wicker Park in that it resembles and feels like Brooklyn, it is trendy, hip and a very entertaining place to eat and drink. This time out, The Fifty/50 didn't let me down. It is called a "Sports Bar" and it is, TV's everywhere, beers on tap, jerseys on the walls. But it is more than a sports bar, the food is off the hook, not only is known for its O-Face burger but people come from all over for their wings as well.
Burger Ordered: The O-Face
The Taste: Man, this is a big burger and I crushed it! The O-Face is a half-pound of ground beef topped with Merke's cheese, pulled pork, and a WAFFLE sandwiched between a pretzel-bun. First the patty, it was one of the softest pieces of meat I have ever had. What I mean by soft is that the bites came apart so easily. The pulled pork was the perfect contradiction of sweet and salty and topped with the Merke's cheese, the burger came together. My issue with this burger was the waffle. I still don't understand why it was there, maybe to soak up the juices? I don't know, maybe to be a differentiator. Either way, the waffle was fun to look at but served no purpose. I think the burger without the waffle would have been more enjoyable.
The Verdict: The O-Face would have been a better burger without the waffle. The overall experience was a great one, great sports, great staff and creative ingredients. I would go back again and maybe next time, add some wings to go with my burger!
The Fifty/50 2047 is located at 2047 West Division Street in Chicago, Illinois.
Sign up for Burger Weekly email updates!