Times Square Never Tasted So Good |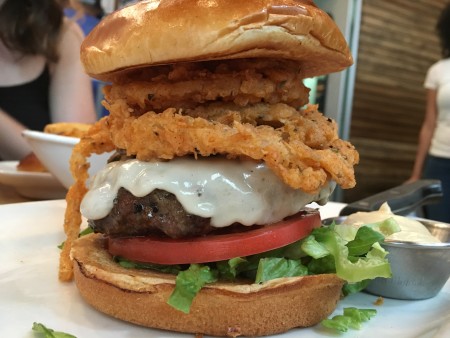 Years ago, Burger Weekly covered one of the Counter's outposts in California. There are many there, and only one here in New York City. So while it would seem enticing to try a Cali burger here in the city, its sole location in Times Square held no appeal to me. The spot has never received a ton of love from NYC food nerds, so there was never anything to get me over my trite distaste for the neighborhood.
But I was invited in by their team in California and though, what the hell, the place must be at least a little good since they've been in business for years. I'm happy I did, because I was more than a little impressed by their operation.
Burgers Ordered: The Counter Burger and The Red Eye
The Taste: The Counter Burger comes topped with provolone cheese, LTO, garlic aioli, and mushrooms tucked away inside a stack of onion rings. The placement of the mushrooms were something of a surprise, jumping out of the center of the burger like cheese in a Juicy Lucy. The flavor of the onions and cheese swirled together delicately, a stark contrast from the rest of the burger's heavy-handed girth. The Red Eye was topped with a fried egg, Sriracha, cheddar cheese and bacon. If you're not ready for a messy, breakfast-influenced burger, steer clear. If you're ready, then drive head first into this sucker because it's delicious.
The Verdict: This place is something of a nice refuge from the sounds and stimuli of Times Square. Tasty burgers and a more than generous helping of fries will help you work through your tourist trauma.
The Counter is located at 7 Times Square in Manhattan, New York.
Sign up for Burger Weekly email updates!