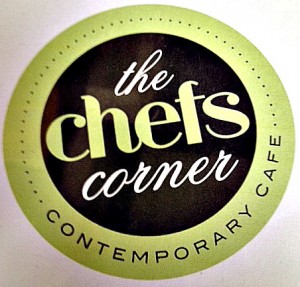 Burger Ordered: The Chef's Burger
The Experience:  A little bit of backstory before we get on with things. Here at Burger Weekly we are always open to suggestions from all the Little Meisters out there who seek to turn us on to new and exciting Burger Adventures. The following comment from Maryellen popped up on our Upcoming Adventures page back in April:
"You need to try the Chef's Corner in Mineola. They have a burger stuffed with Shredded Flank Steak & Cheese. Amazing."
Now with a description that included shredded flank steak and ended in amazing, we just knew we had to put out our Foreign Affairs correspondent, Put It In Your Face's Executive Chef Christopher Freda on the case! You might be wondering why it took our intrepid traveler so many months to get over there.  Well, one of the drawbacks of this establishment is its hours of operation: Mon – Fri:  7:00AM – 7:00PM; Saturday:  8:00AM – 7:00PM; Sunday:  8:00AM – 4:00PM. Not exactly plentiful.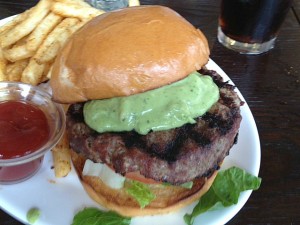 The Chef's Corner Café is, as the name implies, a quaint corner café decorated with some beautiful paintings. The waitress was friendly and knowledgeable and the seating is ample. In the warmer weather the open air atmosphere is fantastic.
The Taste: As Maryellen suggested, Christopher ordered the Chef's Burger.  It is a black angus burger stuffed with shredded flank steak and oaxacan cheese, topped with guacamole, and served on a brioche bun. First, let's start with the positives; the patty itself was very flavorful as was the shredded flank steak stuffed inside it. The guacamole was a nice touch and not too overpowering, and we all know how Christopher loves his brioche buns. On the negative side, as is the case with a lot of stuffed burgers, the burger could not be cooked to order due to the filling, thus it was not at the Burgermeister preferred temperature of medium rare. Christopher also felt that it could have used more of the delicious oaxacan cheese and the the guacamole could have had a bit more kick. On the whole, it's a tasty burger with some room for improvement.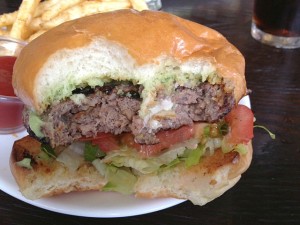 The Verdict: If you can make it over there during their limited hours, the Chef's Corner Café is worth the trip to check out a burger of a different variety. Also worth noting is that they have an amazing weekend brunch menu which features absolutely fantastic French Toast.
The Chef's Corner Café is located at 95 Mineola Blvd in Mineola, New York.