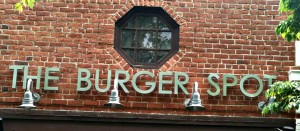 Off to Long Island for a taste of Texas.

Burgers Ordered: Christopher – The Texan
The Experience: The Burger Spot in Garden City is a casual burger joint that features indoor as well as outdoor seating. When the weather is nice the outdoor seating is a definite bonus. Ordering is done up at the counter. If you're eating in your order will be delivered to your table. They offer eight specialty burgers and three specialty vegetarian burgers.  You also have the option of building your own burger using a plethora of cheeses, toppings, and sauces. They also offer turkey "burgers", grilled cheese, hot dogs, and salads. You have your choice of sides from either fries or onion rings.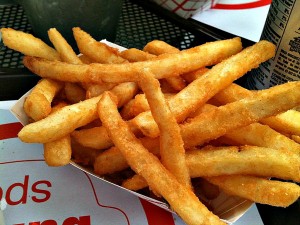 Crispyyy
The Taste: Christopher ordered one of The Burger Spot's specialty burgers; the Texan.  It features cheddar, BBQ sauce, bacon, and an onion ring. All specialty burgers are served on a brioche bun with a side of fries. As per Burgermeister tradition Christopher ordered his burger medium rare.
The Texan arrived beautifully half wrapped in paper on a tray, accompanied by a generous portion of fries. The burger was cooked as ordered and lovingly slathered with a tasty and tangy BBQ sauce. The amount of sauce was just right; not enough to make a sloppy mess but enough that you can fully appreciate its flavor. The cheddar was a nice accompaniment to the sauce, bacon, and onion ring. If one fault could be found it's that the bacon could have been a bit crispier. The beef had a nice flavor and a nice char on the outside, while the delicious brioche bun held up perfectly. The fries were hot and crispy and accompanied by a delicious dipping sauce.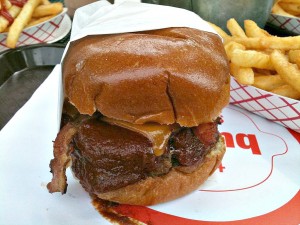 This is how they do it in the south, apparently.
The Verdict: If you're in Garden City and on the lookout for a tasty burger in a laid back setting, one could do a lot worse than the Burger Spot. The burgers are of a high quality and they offer a wide variety of ways to customize your choice. The outdoor seating provides for a great atmosphere in which to enjoy your meal and it's a venue that allows for repeated trips without getting bored.
The Burger Spot is located at 150 7th Street in Garden City, NY.