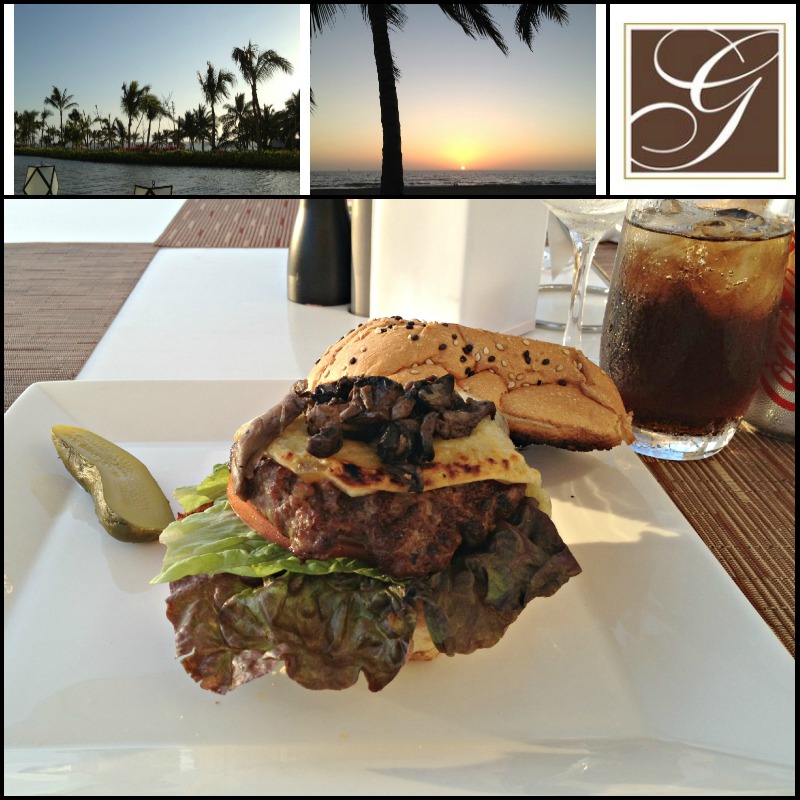 The Experience: I had the privilege of staying at the Grand Bliss Resort, which is one in a group of beautiful resorts in Nuevo Vallarta. I would have been content eating Mexican food the entire trip, but you can only imagine how happy I was when I found out there was a gourmet burger restaurant at one of the other resorts on the property. My wife was more than happy to oblige me and took me out for a meal at The Burger Custom Made inside the Grand Luxxe Resort, the nicest of all the resorts on the property.
The Burger Custom Made had a pretty extensive menu, which included 12 different burgers, appetizers, salads, and various entrees. I was tempted to order the Slider Trio (American Kobe, shrimp, and chicken/turkey) but ultimately ended up ordering the Especial – a 100% Angus beef burger topped with sautéed mushrooms, Swiss cheese, bacon, lettuce, tomatoes, and onions all on a Brioche bun. Now don't look down on me, but I ordered mine without bacon. I may have been on vacation, but I still had a bathing suit to wear. I also ordered a side of French fries and washed it all down with an ice cold Diet Coke.
Burger Ordered: El Especial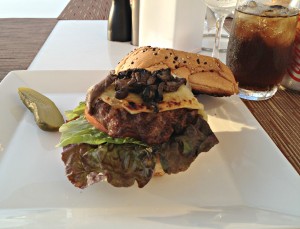 The Taste: The burger was nice and hot when it came out, and all in all it was pretty decent. The bun was nicely toasted and the veggies seemed fresh. The meat, although well-seasoned, was a little dry. This didn't turn out to be too big a problem, though, as the tomatoes and sautéed mushrooms added a good amount of moisture, keeping the burger from being difficult to swallow. I did have some trouble keeping the burger together as I ate, but I've definitely had messier experiences. Being a hotel restaurant, the meal was overpriced, but that fact was quickly forgotten as we listened to the waves hitting the shore and watched as the sun set beyond the horizon.
The Verdict: Although the amazing view we had eating on the outdoor deck of the restaurant was more spectacular than the Especial, I was pleasantly surprised with my burger experience. It was a nice, meaty burger with some quality toppings. Cheeseburgers while on vacation…now that's the life!
The Burger Custom Made is located in the Grand Luxxe Resort at Av. Paseo de las Moras S/N Fracc. Náutico Turístico
 63735 in Nuevo Vallarta, Nayarit, Mexico.
You can see more of Tim's culinary adventures at The Adventures of MJ and Hungryman.