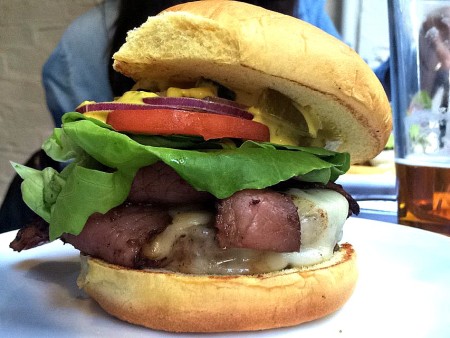 There are a pair of new burger joints that so encapsulate the neighborhoods that they exist in that I couldn't help but writing about them in the same piece. 
The Burgary (67 Clinton Street) is not only aesthetically suited to the Lower East Side, it fully embraces its neighborhood with the LES Burger. It's a Pat LaFrieda patty topped with cheese, mustard, pickles, and pastrami bacon. It normally comes on a toasted rye bun, but I needed just a little bit of classic hamburger to tie this thing together, so I subbed in a potato roll. The whole megillah does its best to bring a modern twist to the Lower East Side staple, pastrami on rye, and I found it to be a lot of fun. You can also build your own burger, get the classic American style burger, or go for a turkey, chicken, or veggie version, if you're so inclined.
Burgary is going to get heat for its ornate milkshakes, because they look a hell of a lot like Black Tap's dessert offering. Personally, I don't digest milkshakes so well so I skipped them entirely and went for the tater totchos. They were fan-freakin'-tastic.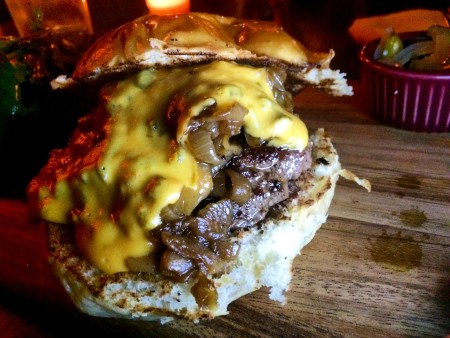 Invite Only (63 Gansevoort) is about as quintessential a Meatpacking spot as you're likely to find. The restaurant is large, the tables are large, the decor is large (or big, or loud, or whatever standard Meatpacking District adjective you can imagine). The only thing that wasn't large when I was there was the amount of people in the restaurant. The huge space was filled with just a few patrons, including Kendra Wilkinson and a couple of friends.
I can't really stand places like this, but I have to tip my hat to them for what they bring to the NYC burger scene. The patty on their Mash Burger is mixed with caramelized onions and topped with jalapeño queso, and served on a very soft brioche bun. While not a slider, the whole mess has a fancy slider feel and taste to it. That is, until you top it with the pickled cucs, jalapeños, and onions that come alongside it. It comes with a side salad that isn't the worst Rabbit Food I've ever eaten, and the cocktails aren't anything to sneeze at either.
Sign up for Burger Weekly email updates!