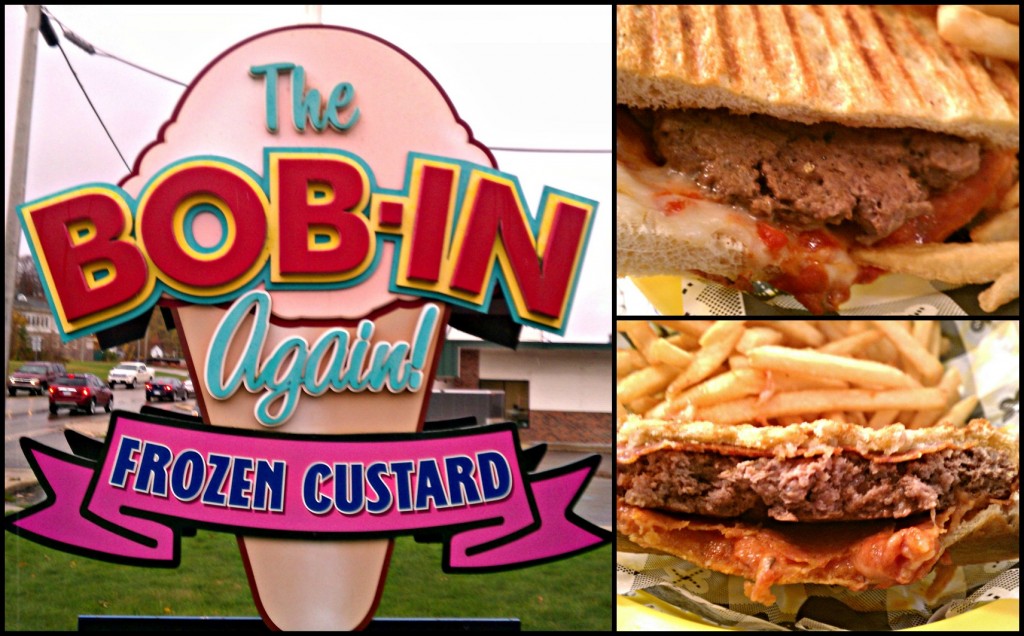 The Experience: The Bob-In Again could be considered Petoskey's version of Boyne City's Thick N' Juicy, as the '50s diners share some stylistic similarities. Both do a good job in decorating their establishments with era-appropriate memorabilia, but the Bob-In exceeds TNJ in several areas. First off, the Bob-In has counter seating, which gives a very cool old school "Soda Shop" feel. They also play songs from the era, which helps in setting the proper mood. On this particular rainy afternoon in October, only one other party was in the restaurant, and their conversation about George "The Animal" Steele piqued my interest, providing an interesting backdrop. The owner of the establishment was friendly without being overbearing, and made sure I was enjoying my experience.
Burger Devoured: Bob-In Pizza Burger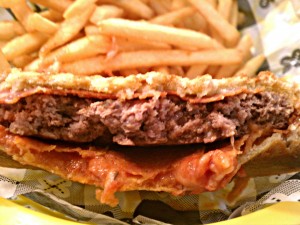 The Taste: The Bob-In promises hand packed Bobby Burgers that are fresh…never frozen. That's a pretty good promise for a quick serve establishment, and the Bob-In delivers a fresh tasting burger. The Pizza Burger is a 1/3 lb. hamburger topped with mozzarella cheese, pizza sauce, and pepperoni. It is served on grilled Panini-type bread, which makes is a nice change of pace from all the other buns. I still prefer a bun with my burger, but at least this was unique. The burger itself was good, and combining a burger with pizza worked out better than I thought it would. Overall this was a very tasty burger, and while I prefer my burgers a little more traditional this was a pleasant diversion from the norm. The French fries were the standard shoestring fries, but were done well and almost always taste good.
The Verdict: At the very affordable prices of a quick serve establishment, The Bob-In again succeeds in its modest goals. It feels like a real '50s diner and the food was enjoyable enough for a quick lunch.
The Bob-In Again is located at 1150 Bay View Road in Petoskey, Michigan.