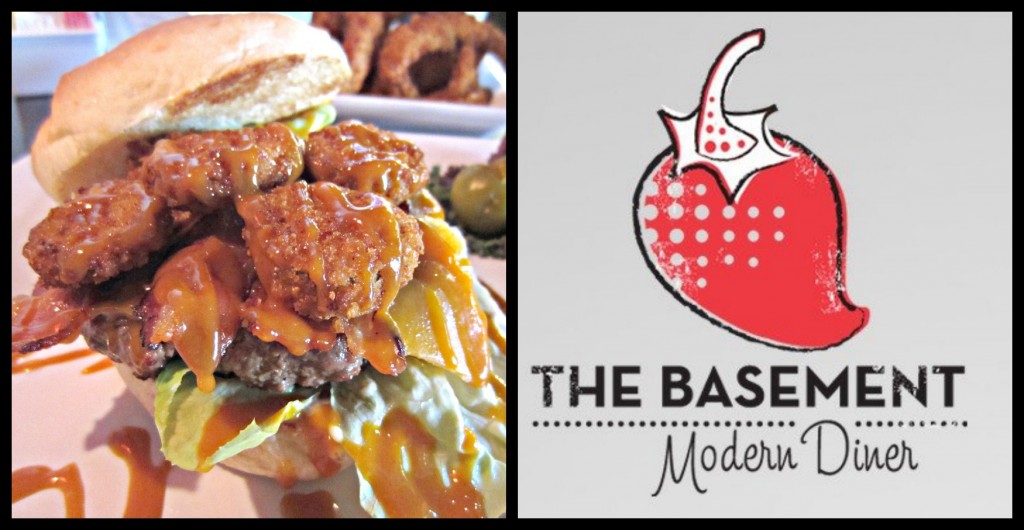 The Experience: Walking along the canal in Bricktown, I found The Basement inside RedPin. The restaurant was not clearly labeled but very clean and softly lit. I was greeted right away by a friendly hostess who was also my server and I was seated in a horseshoe shaped booth with soft grey cushions. The decor was original, with red colanders for lamp shades and mirrored chandeliers that sparkled along the walls. As I looked through the menu, I found a few unique burger choices and could not decide on which one to order. I asked my server which one was her favorite and she recommended The Urban Cowboy because she couldn't get enough of the barbecue sauce.
Burger Ordered: The Urban Cowboy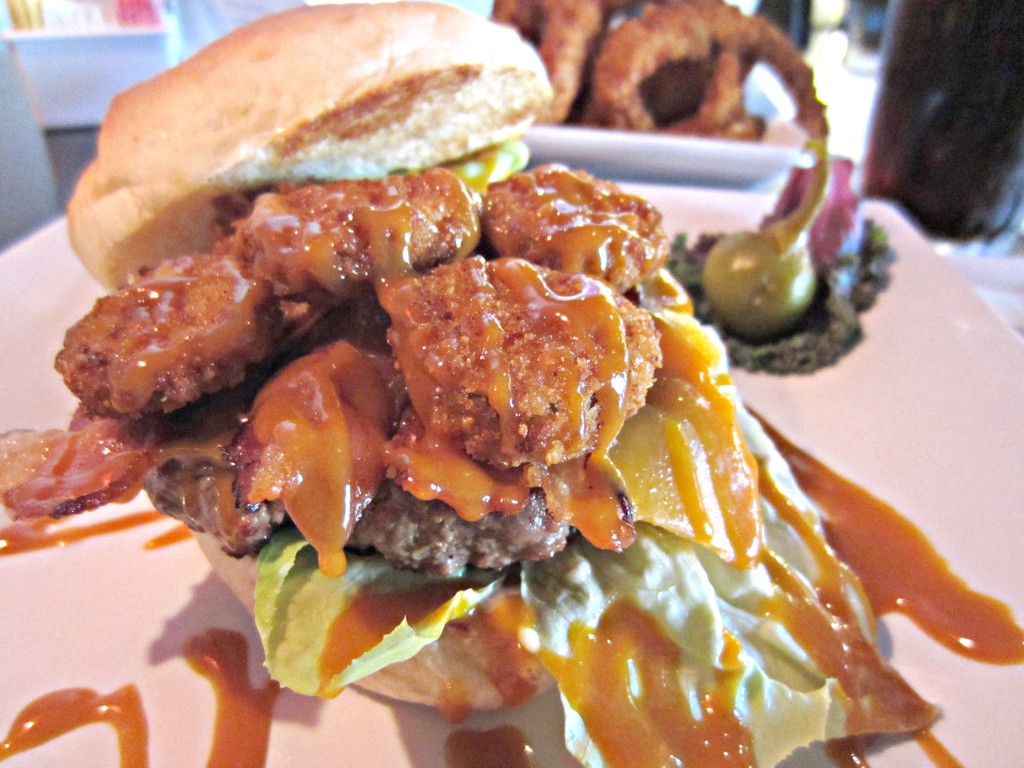 The Taste: The Urban Cowboy is a burger topped with Longhorn cheddar, panko-breaded fried pickles, crisp bacon, Boston lettuce, barbecue sauce, and black pepper aioli on a toasted white butter roll. Their beef is all-natural, grass-and-grain-fed and dry-aged from NoName Ranch in Wynnewood, Oklahoma. Lean ground turkey or grilled chicken breast can also be substituted and their bread is made from scratch daily at Prairie Thunder Baking Company. You get all of that for eight dollars.
The plate presentation was beautiful, and the burger smelled and tasted delicious. The pickles had a very distinct flavor and went perfectly with the barbecue sauce. The bread was fluffy on the outside and lightly toasted on the inside. The bacon and lettuce were crisp and the cheddar was not too sharp. The size of the burger was adequate for the price, but did not come with a side.
The Verdict: All-in-all, the burger gets a 4 out of 5 because I found the butter roll a little too buttery and had to buy my side separately. I definitely recommend you to try this burger and the restaurant.
The Basement is located at 200 South Oklahoma Avenue in Oklahoma City, Oklahoma.
You can read more of Michelle's work here.