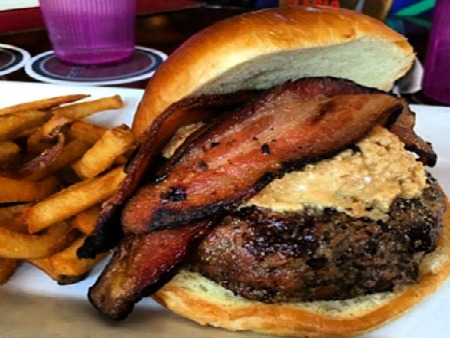 The Bad Apple is located in North Center, across the street from Half Acre Brewery, which is either an awesome combination or a deadly one. I have had a number of great burgers at The Bad Apple, but on my last visit I went with a few friends and things got out of control. We had a couple drinks and ordered a burger, which I fell in love with. The Bad Apple became the Holy Grail for burgers, at least for me. Unfortunately, the afternoon ended up being deadly and I got sick after numerous beers at Half Acre.
This time however was going to be different. I loved the burger, so I wanted to try it again, sober. Meh, maybe a little intoxicated. We started out at Half Acre for one beer then went over to The Bad Apple for lunch.
The Burger: Elvis Presley's Last Supper (EPLS)
The Taste: Have you ever seen peanut butter on a burger? Well, I hadn't. But The Bad Apple prides themselves on creating unique and creative burgers, so why not give it a shot? This burger consisted of bacon, peanut butter, meat and a brioche bun. The bacon and peanut butter actually played off each other very well. The salty, smoke flavoring and crunch from the bacon was completely opposite of the smooth, sweet and thick peanut butter. The downfall was how well done the patty was cooked. I should have requested that it be cooked medium-rare instead of letting the waiter decide how it should be cooked. Don't get me wrong, the burger was actually pretty good, but they do have a laundry list of burgers to choose from.
The Verdict: The next time I go to The Bad Apple I will be getting my favorite burger in the city, the Slow Burn. Until then, I will be craving that same burger I fell in love with two years ago.
The Bad Apple is located at 4300 North Lincoln Avenue in Chicago, Illinois.
Sign up for Burger Weekly email updates!