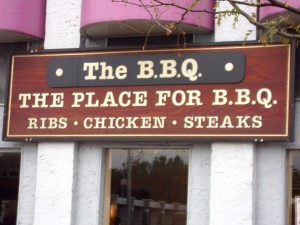 Baby on Board
Burgers Ordered: Jake – Quarter Pound Burger
The Experience: Boyne City is primarily a summer tourist town, so The BBQ was nearly empty when Jake arrived around 6:00 p.m. on a Thursday evening. The only other patrons were an elderly couple who were quite delighted to see Vivienne Rose (AKA "The Littlest Burgermeister," Burger Weekly's baby mascot and merchandise model) accompanying Jake, and were very friendly and offered several parenting tips. The waitress, with only one other table to wait on, was also very friendly and talkative, and enjoyed having Vivienne at the restaurant as well.
Jake was drawn to the restaurant by the letters "BBQ" in the name, as well as a Thursday night special of burger, fries, and beer for just $6.95. The dining room was small but cozy, only lacking proper seating for Jake's 11-week old companion. But with the help of the other diners a makeshift high chair was designed and everyone was pleased.
The Taste: The burger arrived with the standard fixings of American cheese, lettuce, tomato, and onion, and was served with home fries, coleslaw, and a pickle. Without being too fancy, the burger managed to successfully fill the hunger void and possessed a taste that was enjoyable but not memorable. The rather large fries were a definite plus, with the skin roasted to a nice crispy finish.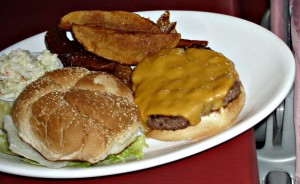 The Verdict: The BBQ was solid small-town bar food. It was nothing worth going out of the way for, but at $6.95 it delivered what was needed and nothing more. The sign promotes ribs, chicken, and steaks, so it's not a burger joint per se. With that considered, The BBQ did a fine job for a Thursday night special.
The BBQ is located at 118 S Lake St. in Boyne City, MI