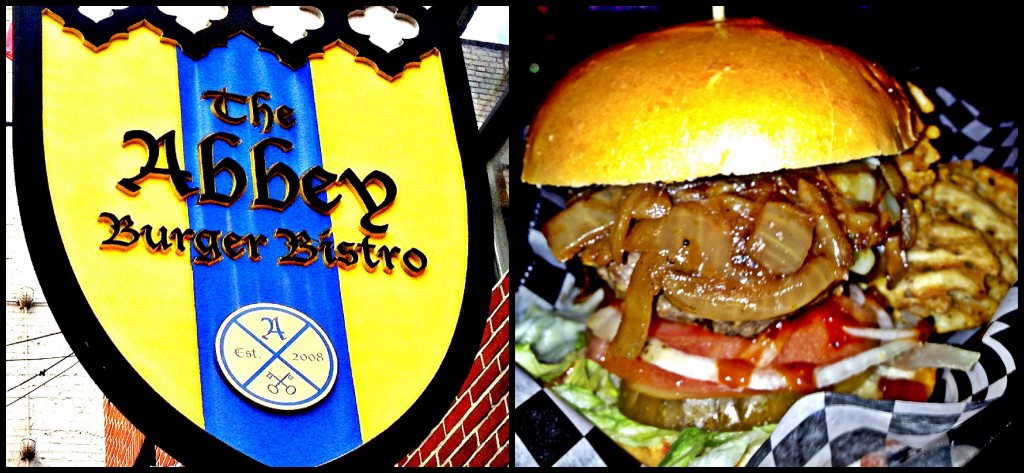 The Experience: Abbey Burger Bistro in Baltimore's Federal Hill neighborhood is directly across from Cross Street Market, a prime location in Fed Hill's bar scene. The atmosphere is good, exactly what you would want from a restaurant specializing in burgers. It is clean, comfortable, homey, and sports a medieval design with exposed brick, wood beams, and Abbey's signature crest.
Abbey's real draw is their game meat burgers. Wild boar meat? Sure. How about medium rare kangaroo on a pretzel roll with Guinness cheddar cheese and sautéed onions? Take a look at Abbey's Build-A-Burger checklist and go from there. The menu includes both your basic cheddar, Swiss, American, pepper jack, provolone, goat and bleu cheeses, and less the traditional "red hawk," an organic brie, and Guinness cheddar, for one dollar extra.  Abbey also offers vegetarian options. They are most well-known for their Baltimore Burger, topped with homemade crab dip, applewood bacon, and cheddar; their Peanut Butter Burger, topped with applewood smoked bacon and creamy peanut butter smeared right where you like it; and the Harry's Bistro Burger, topped with applewood bacon and sunny side up egg on an English muffin.
Burger Ordered: BBQ Bison Cheeseburger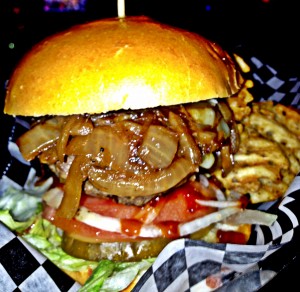 The Taste: The Baltimore Burgermeister opted for to build her own burger. Bison ordered medium rare, American & pepperjack cheeses, sautéed onions and barbecue sauce all adorned the burger, which was ordered alongside waffle fries. The fries were exceptional, while the burger was tasty and messy. The basic lettuce and tomato were fresh as could be, but the tomato was sliced too thick and had to be removed. The meat was a little too well done to be considered medium rare. A classic white bread bun was soft and supple, much like brioche, was something the Burgermeister was definitely happy with. There was an extra cost for the waffle fries, a well spent three dollars, but you could "settle" for sweet potato fries for no extra charge. The waffle fries were crispy and soft right where they needed to be, and were the perfect compliment for this burger.
The Verdict: Saturday nights around 7 usually boast a 2-hour wait, so plan accordingly.  A mid-week pick-me-up is what this Burgermeister would recommend. One thing is for sure, the next trip to the Abbey will include a Peanut Butter Burger purchase.