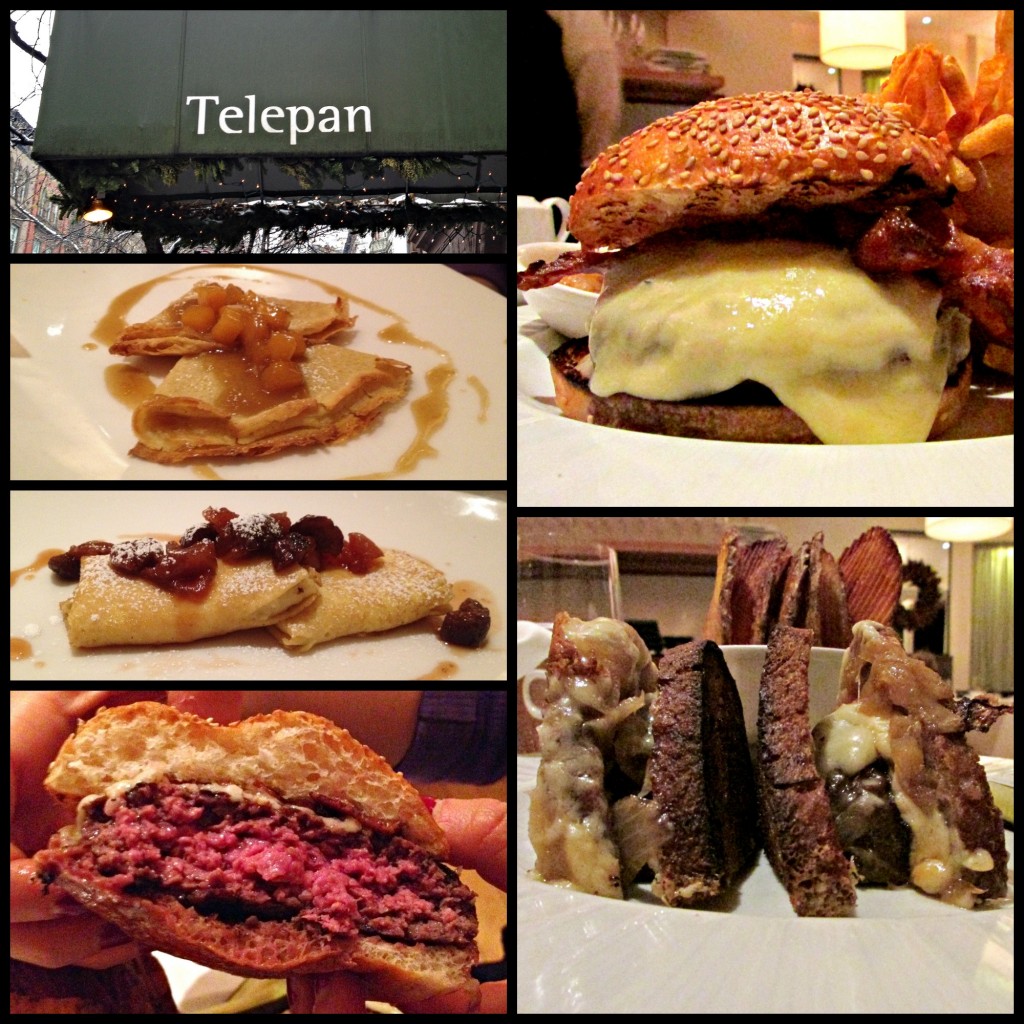 The Experience: By now, my telling you that Burger Weekly began as a mission to eat all of the burgers on the Burger Register. As such, Telepan has long been on my radar. But like a few other spots in New York City (I'm looking at you, Maialino) Telepan puts obstacles in the path of your average Burgermeister. The burger is not served at dinner. It is served a la carte at lunch, but only Wednesday through Friday, so the working man that doesn't work on the Upper West Side will have trouble getting it then. And on the weekend it is served as brunch, but only as part of the prix fix menu. For me, eventually enough was enough and I plopped down a few extra dollars for said prix fix brunch so that I could dine on Telepan's burger offerings.
Burgers Ordered: The Burger and the Patty Melt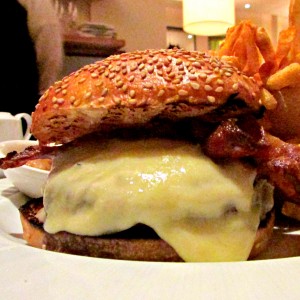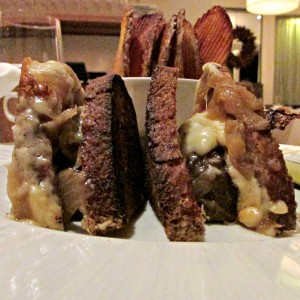 The Taste
: Telepan's burger comes with pickled beets, lettuce, tomato, onions, bacon, and cheese. I had no patience for
Rabbit Food
, so I can't speak to the benefits of putting a beet on a burger. Honestly, I wouldn't want to speak to the benefits of putting a beet on a burger. In speaking about the bacon cheeseburger proper, Telepan does a fine job. The bun is tasty, if unmemorable, but does a commendable job holding up to the incredibly juicy patty. The patty itself was cooked
medium rare in the truest sense of the word
. Telepan is a classy joint, put you'll be wiping your hands quite a bit. The bacon and cheese, like the bun, will make you pleased you ordered the burger, even if they won't blow your mind.
The real reason that the prix fix brunch at Telepan is worth it for a burger-enthusiast (in addition to the fact that starters like the blintzes and the crepes are delightful) is the patty melt. Though it will be served more well-done than the hamburger because the patty is grilled, and then continues to cook after being placed between slices of rye bread, you will surely appreciate its unique flavor. The cheese, grilled onions, and distinct, almost sausage-esque taste were all a real treat.  The volcano of fries and onion rings that come with the burger and the potato chips that come with the patty melt are also stellar.
The Verdict: If you've got a little extra dough saved up for a special brunch, make it happen at Telepan. The patty melt is a lot of fun, and the starters on the menu will get you more than geared up for your main course.
Telepan is located at 72 West 69th Street in Manhattan, New York.