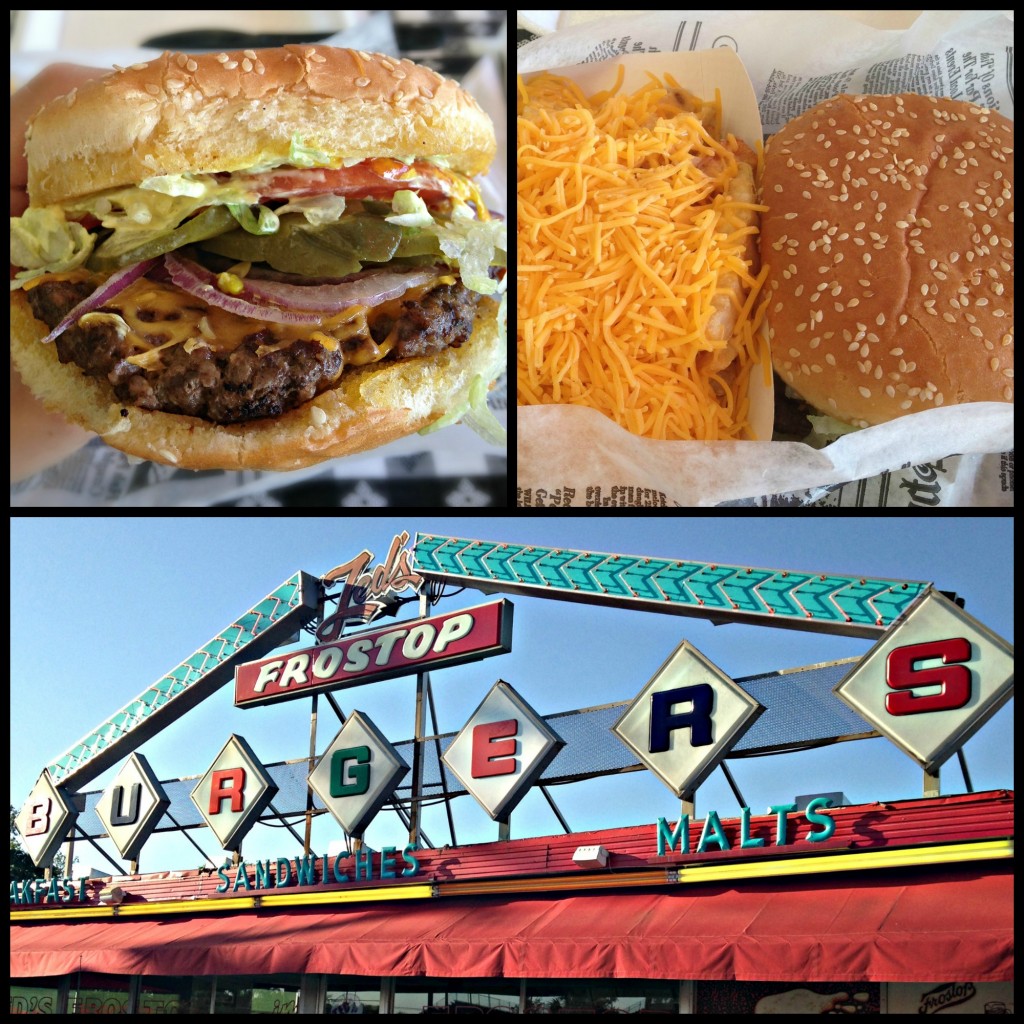 The Experience: I love burgers, and I love kitsch. When the two meet, it's a match made in burger heaven. With this in mind, Ted's Frostop had caught my eye shortly after I moved to New Orleans. With its iconic root beer mug sign (restored after Hurricane Katrina) as well as its 1950's style drive-in window, I knew there was much kitsch to be explored. This curiosity was solidified by its appearance on American Horror Story: Coven, filmed on location in New Orleans. SPOILER ALERT: If it's good enough for the severed head of Kathy Bates, it's good enough for me.
Ted's proved to be as charming on the inside as the outside. With pinball machines, checkered table cloths, doo-wop music, and retro decor, I felt like I was in malt shop heaven. I was impressed by the breadth of the menu, offering breakfast all day as well as the kind of food you would expect from a diner: burgers, hot dogs, chili cheese fries, the works.
Burger Ordered: The Lot-O-Burger
The Taste: I went with the classic Lot-O-Burger, fully dressed with lettuce, pickle, tomato, onion, and Lot-O-Sauce, which I suspect is a play on Thousand Island dressing, but took on a more yellowish hue (perhaps some mayo and mustard rather than mayo and ketchup, were I to wager a guess). I had hoped to add chili on top, but they had run out, as it was a half hour before closing time. This also meant that I could only get regular cheese fries as opposed to chili cheese fries, which was disappointing.
Upon first bite, I was concerned that the burger was perhaps overcooked. This was not a surprise, as it is a traditional diner-style flat patty, and this is often the case in my burger experience with patties of this sort. But by the time I got a few bites in, the texture was perfect. This is a classic, no-frills burger, with the sauce helping it to stand out as signature.
The web site shows a travel channel clip suggesting that the bun was made of signature New Orleans po'boy bread. I am not sure that's what I got (Ted's also serve po'boys), as the shape of the bun appeared normal unlike the traditional po'boy rectangular shape I saw on the clip. But one of the things I look for most in a burger is the bun's ability to sustain the weight of the patty's juices and dressings, and this bun passed the test. This was a remarkably un-messy burger eating experience.
The main disappointment were the cheese fries. The cheese was not properly melted, and it was akin to eating shredded cheese right out of the bag. It's unclear if this was the intended result, or if it could be attributed to it being closing time. The quality of the fries was solid, but particularly with the absence of chili, I had high hopes for the cheese. I also thought it was strange that a dine in order was served in a to-go container, but again, I suppose closing time was a-callin'.
The Verdict: What stands out most about Ted's is the ambiance. Not only was the place iconic and cute, but there was such a variety of customers that were clearly regulars, from the boy playing pinball with his dad after a baseball game to the older couple who looked like they had just come from church. With a solid product at a more than reasonable price and a signature atmosphere, Ted's is a great piece of New Orleans kitsch!
Ted's Frostop is located at 3100 Calhoun Street in New Orleans, Louisiana.