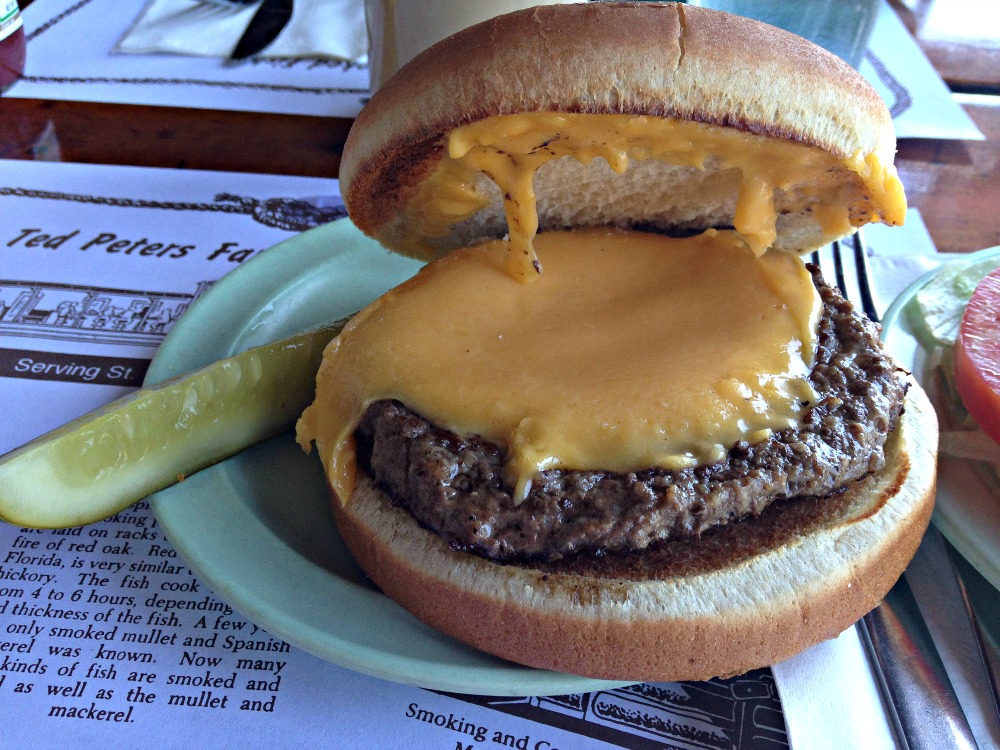 The Experience: Ted Peters is not specifically known for its burger. It is a classic St. Pete Beach dive that is beloved amongst the locals, but more than anything it is known for its fresh smoked fish. You can smell the smoke in the air as you walk up to this charming establishment right off Pasadena Avenue, complete with ample outdoor (and indoor) seating and an on-site smoke shack. But as much as I love their smoked fish spread, I was here on a burger mission.
Burger Ordered: The Jumbo Burger
The Taste: The Ted Peters Jumbo Burger is 1/3 pound of meat that comes with or without cheese, but you're crazy to get it without. This no-frills delight comes only with a patty, a pickle, and Velveeta melted cheese (that's right…the same stuff that goes in the box of macaroni). I added ketchup, mustard, lettuce and tomato.
What it lacks in photogenic appeal, the jumbo burger makes up for in taste. I ordered it medium rare and it came medium, but this did help it to hold together very well, and it was still deliciously tender without being soggy. Its simplicity belies its ability to fill; I scarfed it down quite quickly and washed it down with my classic frosted mug of draft beer.
The Verdict: Ted Peters is exactly the kind of gem you look for in a Florida beachside vacation. Locally owned for 50 years, this place boasts a charm matched only by its tastiness. Come for the smoked fish, stay for the burger… or vice versa!
Ted Peters Famous Smoked Fish is located at 1350 Pasadena Avenue Sout in South Pasadena, Florida.