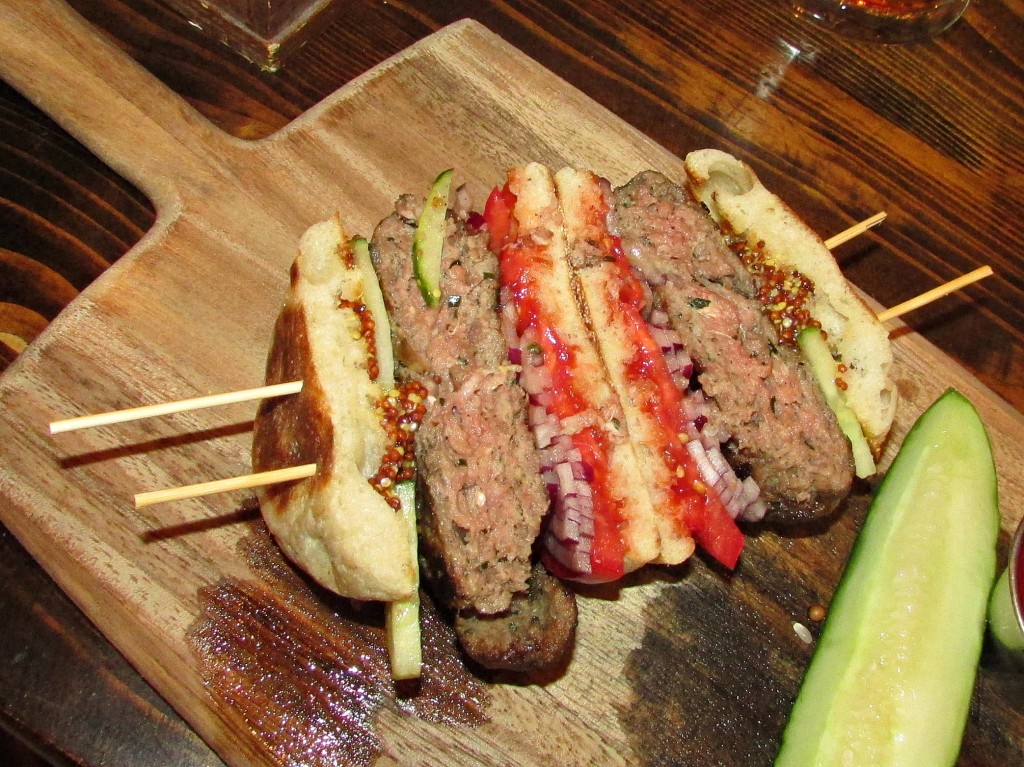 The fast food industry in the United States has done something nefarious to the hamburger-eating public of this great nation. It has somehow convinced the masses that ketchup is an essential topping on burgers. This is, in point of fact, completely untrue. A hamburger patty should stand on its own, the star of the show in its own right. Sugary, goopey ketchup should be reserved for only those dried out burgers most in need of help.
Now I don't hate ketchup. I enjoyed the Ballymaloe Irish Ketchup that I used when grilling burgers in my home, and I often use ketchup with my french fries. I simply don't think it has a place on a hamburger. That said, I visited Tavern 29, which puts ketchup on their "Famous Burger". Also topped with cucumber, tomato, red onion, ketchup, and french mustard, this brisket blend burger is unorthodox from the start. It is served already halved on an English muffin. All things being equal, I'd probably go for their Tavern Burger the next time around, as it skips the ketchup & cucumbers (which both served to cool down the burger) and instead comes topped with a garlic aioli and dill pickles (two of my favorite toppings).
So join me and my fellow ketchup deniers in shirking the red menace. If you go to Tavern 29, grab the Tavern Burger. If you're out with a friend and notice them putting ketchup on their burger, ask them to take a bite before they pour on the gloop. And most importantly, try to stay away from the stuff yourself; you'll be immeasurably enhancing your burger life.
Tavern 29 is located at 47 East 29th Street in Manhattan, New York.