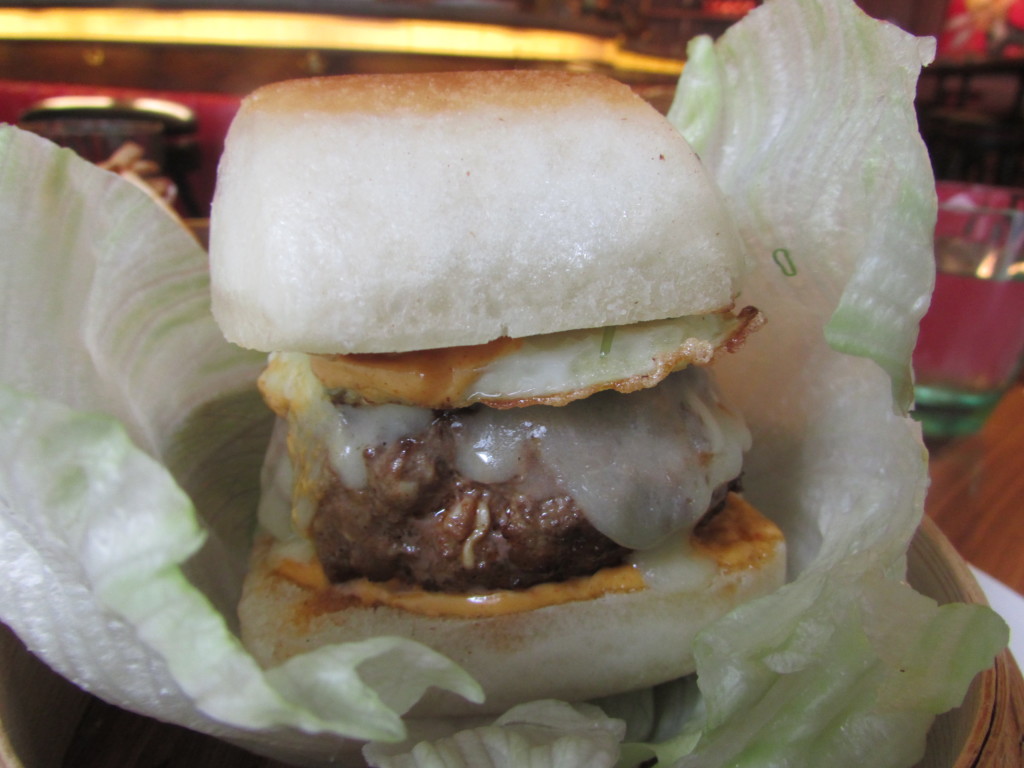 The Experience: Most Wednesdays, Burger Weekly delights in bringing you the very best new and/or undiscovered burgers in New York City. Some Wednesdays, the mission shifts to tell you about an interesting, off-beat burger that has come to our fair city. This week, it's a bit of both. Tasca Chino occupies the old Sushi Samba space on Park Avenue South, and continues its tradition of Asian fusion cuisine. What it does not continue is Sushi Samba's lame vibe. I visited Tasca Chino a couple months ago, before a burger graced their menu, and enjoyed the food quite a bit. This week, I revisited the joint for lunch to focus specifically on their unique burger.
Burger Ordered: The Tasca Burger
The Taste: The Tasca Burger comes between two steamed Chinese buns. The juicy patty is seasoned with paprika and garlic and topped with fried egg, manchego cheese, and sherry aioli. At first, I was concerned that this style of bun was a bit too bland for a burger, but after a few bites of the remarkably seasoned patty, and a few more bites that allowed the egg yolk to soak into the bun, I took back my initial trepidation.
The burger came with a side of patatas bravas which themselves were accompanied by a cup of tamarind barbecue aioli. The fries were delicious, and the aioli was like nothing I've put on a potato before.
The Verdict: For those who feel that the Asian fusion fad never should have become passé, this burger is perfect. And for those who don't care for the trend one way or another, this burger still does more than enough to change things up from your typical meat-loving outing.
Tasca Chino is located at 245 Park Avenue South in Manhattan, New York.
Sign up for Burger Weekly email updates!