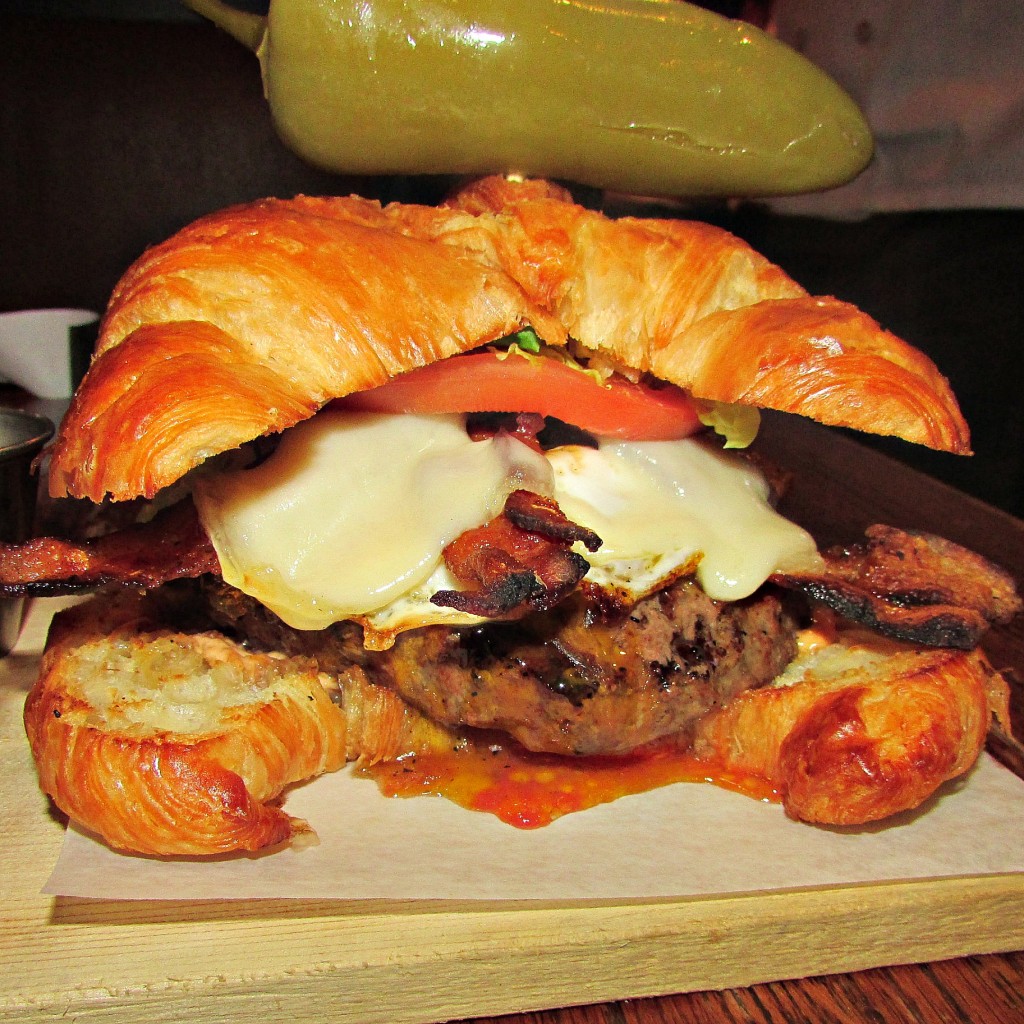 The Experience: There's something adorable about the fact that the team behind Taproom is largely made up of a husband-and-wife beer sommelier-chef couple. Chef Stephen Durley and sommelier Hayley Jensen serve up food and beer, paired in a way that should enhance both. I went for the Brunch Burger, a Burger Maker beef patty topped with a fried egg, bacon, Swiss cheese, lettuce, tomato, chipotle mayo, and IPA jalapeño on a croissant with a side of tater tots. It was paired with the Burger Lover flight of beer (specifics pictured below). So how was the pairing?
Burger Ordered: The Brunch Burger
The Taste: There was only one flaw in this otherwise unbelievably delicious burger, and that's the croissant used as a bun. It's not even that it tastes bad, as its buttery flavor was a wonderful accent to the rich taste of the beef. Rather, a croissant's flaky composure leaves it incredibly vulnerable to the juice from the beef. I realized this would be an issue early, so I resolved to allow my hands to get filthy and enjoy the meal. The flaky top half of the croissant added a nice texture to the succulent beef. The cheese and bacon were delightful, and the jalapeño added a heated kick with each bite. The tater tots were fantastic in the chipotle mayo, and the beer flight was indeed paired beautifully with the burger.
The Verdict: I had always thought of Taproom as a loud place to drink excessively, but now that I know about the treats coming out of the kitchen I'll certainly be revisiting more often.
Taproom No. 307 is located at 307 3rd Avenue in Manhattan, New York.
Taproom No. 307 is located at 307 3rd Avenue in Manhattan, New York.