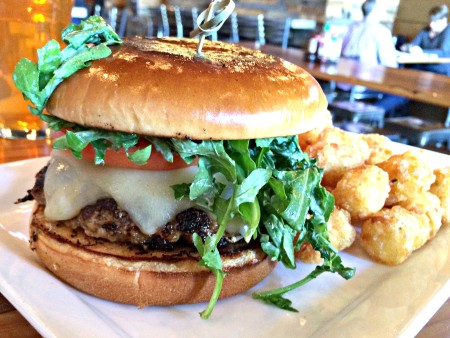 Tap 30 Pourhouse has become a pretty happening spot in downtown Petoskey. TAP30, as it is sometimes stylized, is bold enough to call itself the "Petoskey Craft Beer Headquarters," and its website touts how it embodies, "the craft beer culture with a unique atmosphere!" The name comes from the 30 rotating taps of, "the most sought after brands for any true beer enthusiast." This all sounds pretty good to me. I like beer. But do you know what I like even more?
Burger Ordered: House Burger
The Taste: I like the confidence of this menu offering only one burger option – the House Burger. This is a hand pattied masterpiece done with their own special seasoning, on a toasted brioche bun and topped with tomatoes, arugula, roasted garlic aioli, a house-made red onion marmalade, and choice of cheese. I made mention not too long ago about not having a top 5 list for northern Michigan, but I might have to make one now because we've got another strong contender at TAP30. They don't even ask how you want it cooked, because they know the right way to do it. This was a ridiculously great patty – whatever their special seasoning is works beautifully. The tomatoes, arugula, aioli, marmalade, and cheese coalesce into perfect harmony where none of the topping overwhelm the other, rather working together to create the best possible flavor. To really send this meal over the top, they have Tater Tots as an option. Yes I got them, and yes they were delicious.
The Verdict: When can I go back? This is definitely one of the best burgers that I've reviewed, and that covers quite a bit of ground (beef).
Tap 30 Pourhouse is located at 422 East Mitchell Street in Petoskey, Michigan.
Sign up for Burger Weekly email updates!