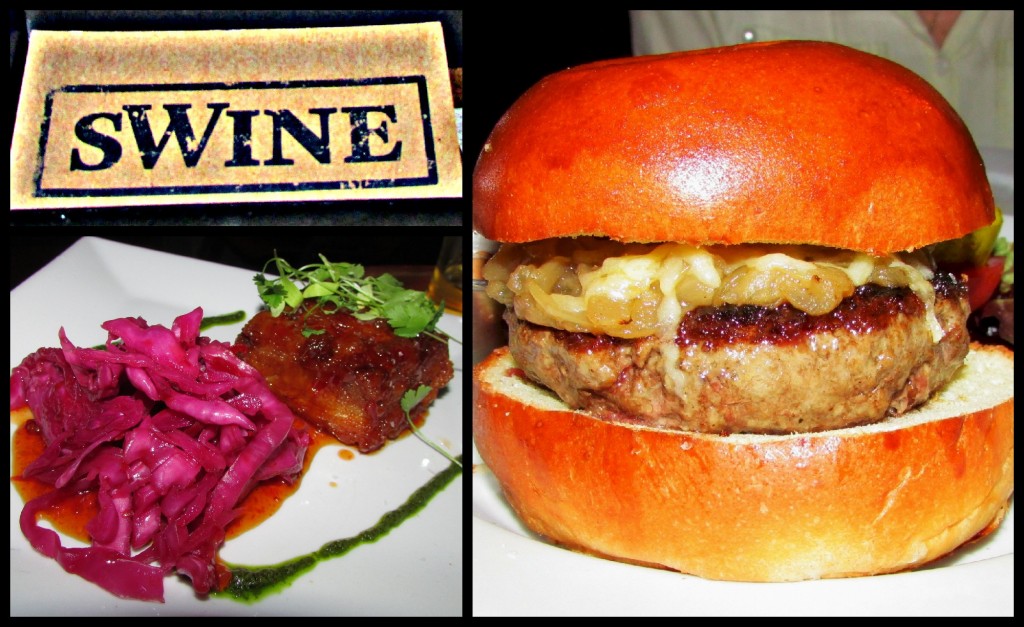 The Experience: At Burger Weekly, we can be accused of being a lot of things, but inattentive is not one of them. The Little Meisters told us that they wanted to see a review of Swine, so we teamed up with 24 Dollar Burger and made our way to the West Village to try the rookie joint.
A veritable feast was ordered, including foie gras torchon, deviled eggs, duck fat cashews, and pork belly. But you're here to hear about the Brisket and Bone Marrow Burger, so let's have at it.
Burger Ordered: The Brisket and Bone Marrow Burger
The Taste: Swine keeps the burger simple while adding their own unique twist. The brisket patty, cooked perfectly medium rare, is topped with a thin layer of bone marrow, which is then topped with Tarentaise cheese. The patty had a fantastic char, and within it was tender and juicy. The bun was a fluffy pillow cradling the burger, and though it was actually a tad too large for the size of the patty, it more than held up to the juicy of the meat. The bone marrow didn't have a particularly strong flavor, but added to the enjoyably soft disposition of the meal.
As for the rest of the feast, the cashews were tasty, but powerfully seasoned with cumin. The fois gras was delightful, especially when paired with the accompanying jelly. The deviled eggs were well done, and the pork belly was downright outstanding. The incredibly thick cut potatoes were delicious, especially when dipped in fry sauce.
The Verdict: Swine pretty much killed it on all levels. Go, get the burger, and make sure you try out at least one of their other wonderful dishes.
Swine is located at 531 Hudson Street in Manhattan, New York.