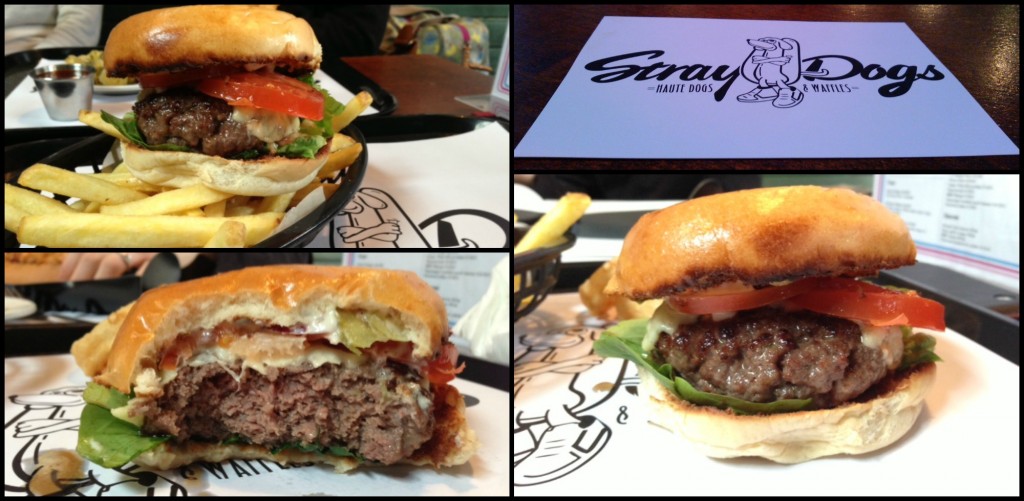 The Experience: Stray Dogs runs out of the kitchen at The Bank in Bristol's busy Stokes Croft area. Stray Dogs promises their own brand of gourmet hot dogs (or Haute Dogs) and waffles. The Bristol Burgermeister had been meaning to check them out for a good few months but when he heard they'd started to serve burgers he had to go. The Bank is a bar by night but during it the day it caters for some casual drinking or a spot of food, so the decor is pretty minimal. The menu is focused on 3 things: hot dogs, burgers, and waffles.
Burger Ordered: The Cheeseburger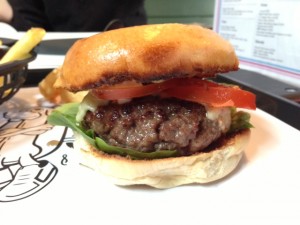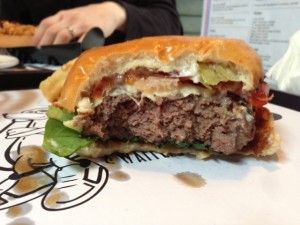 The Taste: The burger arrived perched on top of a pile of fries in a basket. The fries themselves were average; nothing was wrong with them but nothing was particularly right about them either. The bun on the other hand was toasted brioche and was nice and squishy. It held the burger well and kept its integrity until the end. The burger patty was a good size and although it could have been cooked a little more on the medium side, it wasn't dried out and it was still nice and juicy. The meat however, was quite knitted together and the Burgermeister would have preferred a thicker ground mince. The meat had a good flavour, and the cheese was melted around the patty nicely. The flavour of the juicy patty was also complemented well by the sweetness of the brioche bun. The standard burger accompaniments of lettuce and tomato were present as well.
The Verdict: Stray Dogs hit the spot for a quick lunch, the burgers and hot dogs are really tasty and the Burgermeister is looking to go back and try the waffles.
Check out more of Fabian's burger adventures at Adventures in Gastronomy.
Stray Dogs is located in The Bank on 84 Stokes Croft in Bristol, England