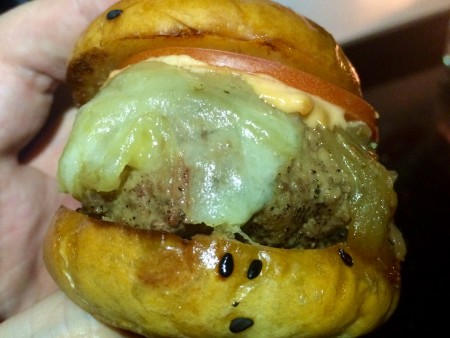 I'm tired of having the mini burgers vs. slider debate, so today, let's talk about the merits of the mini burger on its own. I'm not even sure why STK calls their extensive mini burger menu a list of sliders, when they have such a great nickname for them: Lil' Brgs! In any event, I tried a few of STK Downtown's Lil' Brgs, but today I want to focus on the beef version (they also serve shrimp, chicken, and mushroom varieties). 
Burger Ordered: The Lil' Brg
The Taste:STK only offers their full-sized burger in their midtown location at lunch, as the downtown spot isn't open before 6pm. Downtown, all you're going to get is Lil Brgs. Mini burgers are tough to get right. They're small, so the meat is often cooked completely through. STK though, through the use of really fine Wagyu beef, a delicious special sauce, and crispy, buttery buns, pulls off this difficult challenge and serves one of the better little burgers I have had.
The Verdict: The mini shrimp and chicken burgers are nothing to sneeze at, but the beef iteration of the Lil' Brg is actually something rather remarkable. Good luck eating just one.
STK is located at 26 Little West 12th Street in Manhattan, New York.
Sign up for Burger Weekly email updates!