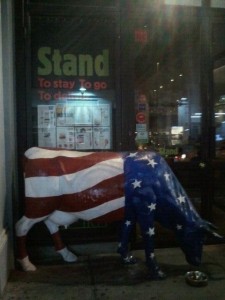 Put It In Your Face
Burgers Ordered: Brad – Stand Burger; Matt – Breakfast Burger; Christopher – Bold Burger.
The Experience: This week the Burgermeisters were joined by the proprietor and executive chef of Put It In Your Face desserts. Put It In Your Face is a brand new but soon-to-be very important pastry company. Their gimmick is that they make decadent desserts the good old fashioned way, with less flash but more flavor. The Burgermeisters, gluttons that they are, jumped at the chance to invite Christopher to a Burger Adventure on the condition that he bring along some of his most rich desserts.
Brad and Christopher had both been to Stand before, pre-Burger Weekly. Christopher has always been obsessed with food, and took a picture of the Bold Burger that he ordered a year ago. We have that picture, and want you to compare the Bold Burger in 2010 to the Bold Burger in 2011… both ordered by Christopher.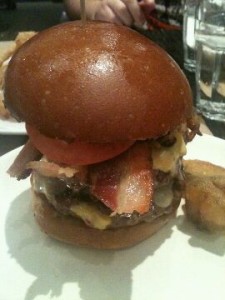 The Bold Burger, circa 2010. 2011 version to follow.
All three Burgermeisters were taken by the attire and physical attributes of the hosting staff and bartender. Stand might as well be a slightly less friendly, trendier hooters given the women they hire to greet you at the door. The wait staff are all men, most of them big dudes. The Burgermeisters surmised that someone has to keep the scantily clad host staff safe.
The restaurant is a throwback to the classic diner with a modern twist. The wooden tables and steel bar give the place an updated feel while the open kitchen and the color scheme of the menu are both throwbacks to a simpler time.
While Brad and Christopher frustrated Matt by talking about MMA and professional wrestling (two things Matt has no interest in), and the couple at the next table over sat in silence throughout their entire meal, obviously on the brink of relationship oblivion, the aromatic smell of grilled beef filled everyone's nostrils. The Burgermeisters needed food. They divied up the specialty burgers and all got different sides, as per tradition.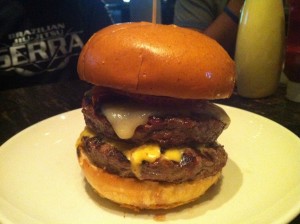 The Bold Burger, circa 2011.
Presentation: The burgers at Stand are, in a word, huge. Christopher's Bold Burger came with two massive patties, applewood smoked bacon, sautéed onions, American and cheddar cheese, pickles and chipotle sauce. It traditionally comes with tomato and a fried egg but Christopher passed on them.
Matt's Breakfast Burger came with one patty, bacon, cheddar cheese and a fried egg. Culinary Christopher said he never felt comfortable getting an egg on his burger, but Matt fears nothing. Brad remembered the half-cooked egg from his burger at Social Eatz with fond memories. The Burgermeisters must be gutsier than their master chef guest.
Brad's Stand Burger was also one patty, seasoned with Worcestershire sauce among other things that he can't remember the waiter saying, topped with lettuce and tomato. Brad actually hates tomato and was devastated that he forgot to ask them to hold it. The torturous task of taking the tomato off of his burger was almost too much to bare. His meal came with a side of two frickle chips.
The french fries and sweet potato fries came served in paper cones and the onion rings came on a plate. Everything on the table, it was time to chow down.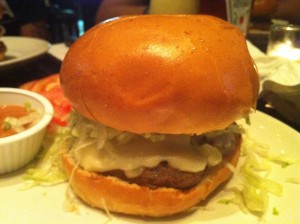 The Stand Burger
Taste: Christopher said his burger tasted as good as he remembered. He's not a particularly big man, but he took down the massive meal with no trouble. He mentioned that the Burgermeisters typically don't spend a lot of time talking about the bun. That said, he loved his brioche bun and said he prefers it to others most of the time. Brad and Matt also enjoyed their brioche buns. Christopher's lower bun couldn't hold up to the weight and juiciness of his medium cooked burger, and by the end of the meal his hands were a mess.
Matt enjoyed his Breakfast Burger. Everyone loves breakfast for dinner, and this was no exception. Matt said his burger was just a tad overcooked, but the flavor was acceptable all the same. He knew that his egg was there, but when pressed for honesty he said the egg was so fried he couldn't really taste it. He did however love the bacon, calling it the best bacon he's had since Burger Weekly began.
Brad's Stand Burger proved to be another in a long line of slow-down burgers. The flavorful patty, while also a bit overcooked, was so tender he tore through it like a buzzsaw. Brad was especially pleased that Stand provides a bottle of mayonnaise at the table. He took full advantage of it.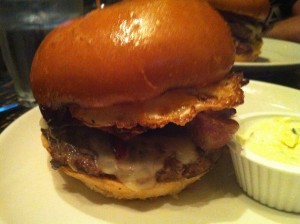 The Breakfast Burger
The fries and sweet potato fries were both delicious, but the Burgermeisters weren't wild about the onion rings. Though they weren't over fried like so many onion rings are, they were destroyed by the sea of salt that was tossed on them. Salt is great, but Lot's wife doesn't need to be resting for eternity on a pile of onion rings.
Now, Stand is known for their amazing milkshakes. In the past Brad has had the toasted marshmallow milkshake and Christopher has had the chocolate peanut butter cup milkshake. On both counts those milkshakes come highly recommended by the Burgermeisters. But on this night, the Burgermeisters forewent the milkshakes in favor of Christopher's Put It In Your Face cookies.
The Burgermeisters were worried that these cookies might not taste great. They like Christopher and they wanted to say nice things about his new company. Luckily, the peanut butter cup cookies he made (peanut butter & chocolate chip cookies with a peanut butter cup in the center) were OUT OF THIS WORLD.
Matt said he could feel his teeth tingling because of the sweetness in the cookie. Brad said that for him, the mark of delicious chocolate was when the hair on his face would stand up. The hair on his face was at full attention after eating only half of one of Put It In Your Face's delicious cookies. Here are a few pictures of the debaucherous treats.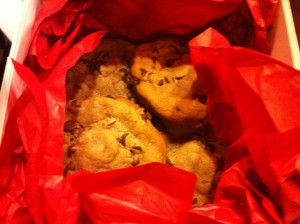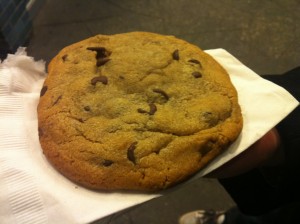 The Verdict:
Stand delivers when it comes to burgers, and though they didn't have them on this night, the Burgermeisters know that it also delivers when it comes to milkshakes. But if you really want an amazing dessert after your Stand Burger, you'd be well served heading over to
Put It In Your Face
and ordering dessert from them.
Stand is located at 24 East 12th Street between University and 5th Avenue. Put It In Your Face can be found right here.