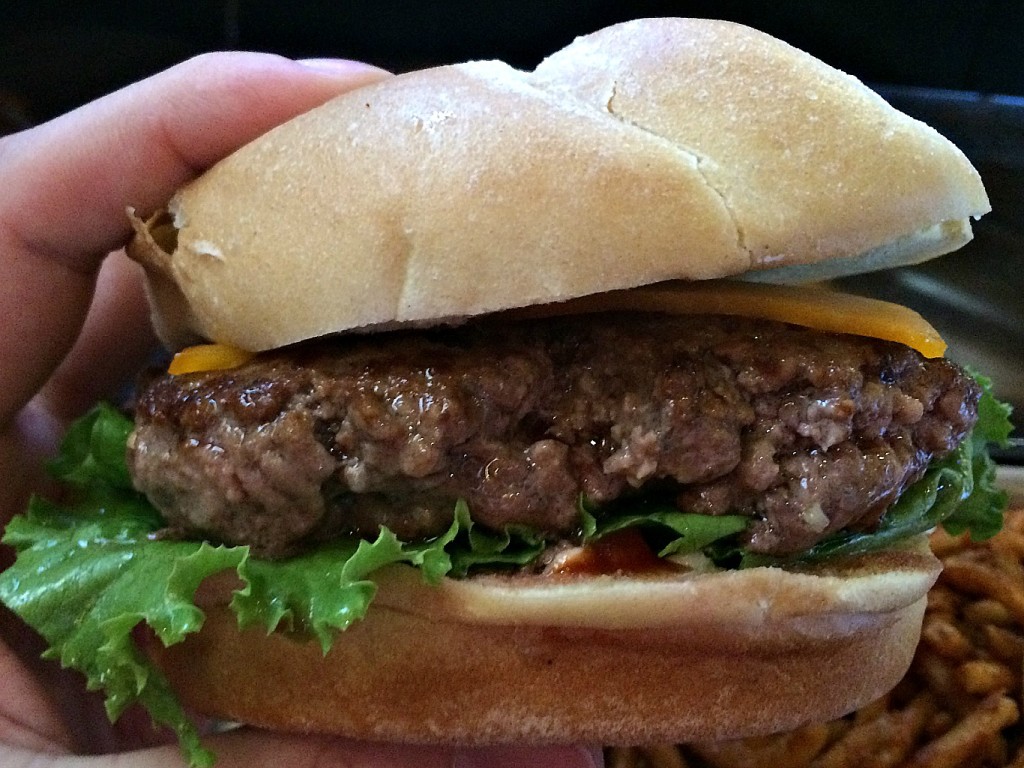 The Experience: Spike's touts itself as "The Meeting Place of the North," and one of the key reasons for that is its famous SPIKEBURGER. The locational advantage that Spike's has in being within spitting distance of highways I-75, US 127, M-72, and M-93 has helped keep them in business since 1933. According to the website:
Harold "Spike" MacNeven opened Spike's "Keg O' Nails" for business the day after Prohibition ended (May 29th, 1933). Spike held a contest with a $20.00 first prize to name his new business. The winning entry "Keg O' Nails" was submitted by Grayling resident, Laura (Welch) Smith, and reflected the areas lumber and timber heritage.
I love stories like that, and I love that they took the time to tell it on their website, it really gives the feeling that this is a community landmark and not just another restaurant on the strip.
Burger Ordered: Super SPIKEBURGER
The Taste: The menu touts the burgers as "World Famous," and while I'm not sure how true that is, they are at least Michigan famous, popping up on a Thrillist List of "The 22 Best Burgers in Michigan." The Super SPIKEBURGER is a half-pound of ground round beef, with the typical burger toppings of cheese, mustard, ketchup, pickle, onion, and lettuce, served on a potato bun. I kept mine to cheddar cheese, mustard, ketchup, and lettuce, and man was it good. The beef was so good and cooked so perfectly that I didn't even realize that the cheese wasn't perfectly melted until Lead Burgermeister Brad pointed it out to me. It was definitely messy and could have greatly benefitted from a Burger Lift, but to look at it another way I had a good excuse to keep shoving it into my mouth hole with an almost reckless abandon. Spike's also offers several different variety of fries, which is a nice perk. I opted for the "buffalo fries," which were essentially shoestring fries seasoned like curly fries, and that was an awesome decision.
The Verdict: Spike is definitely still making a delicious burger as it rapidly approaches its 82nd anniversary. This one is a little out of the way for me, so I had to plan a trip when I knew I was going to be in the neighborhood and it was well worth it. Spike's Keg 'O' Nails is a Top 10 Northern Michigan burger.
Spike's Keg 'O' Nails is located at 301 N. James St. in Grayling, Michigan
Sign up for Burger Weekly email updates!