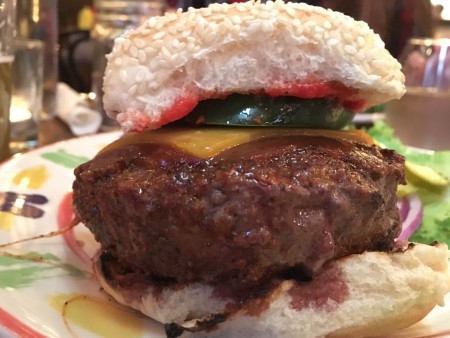 This is going to be a tale of two burger reviews. That's the kind of thing that happens when you mess with the spiciest burger in New York City. Island Burgers doesn't tout its Napalm Burger as the spiciest in town, but I'm dubbing it as such until another joint in the city puts something this fiery on its regular menu. But why is it a tale of two reviews? Well quite frankly, this burger deserves to be reviewed on the basis of the experience of eating it, as well as the experiences that follow in the 24 hours that occurred after I left the restaurant's Morningside Heights outpost.Burger Ordered: The Napalm Burger
The Taste: Topped with barbecue sauce, cheddar cheese, jalapeños and a habanero sauce, there's no shortage of toppings to set your mouth ablaze. But the jalapeños are mild enough and the habaneros are de-seeded before being made into the sauce. Before the heat sets in, this burger would be surprisingly sweet for those who are uninitiated in the world of spicy foods. Still, I had to take a few breaks while eating this burger to compose myself and continue polite conversation with my dining companion. Said dining companion got the slightly less spicy Bourbon Street Burger, which I had previously ordered when I visited Island Burgers' Upper West Side location.
While I enjoyed the burger quite a bit, for its taste as much as for the challenge of getting it into my body, I have to warn those who don't regularly consume this kind of heat that it did a number on me. Sweating, discomfort, and the other usual unmentionable symptoms that come with overdoing it on spicy food. Needless to say, I was not a pleasure to be around after the meal. Consume at your own risk.
The Verdict: This is my third trip to Island Burgers, and if they open up a fourth location I'll be sure to visit it and get a burger there as I enjoy their food very much. That said, I'll probably order something off of the more mild sections of the menu.
Island Burgers is located at 3147 Broadway in Manhattan, New York.
Sign up for Burger Weekly email updates!