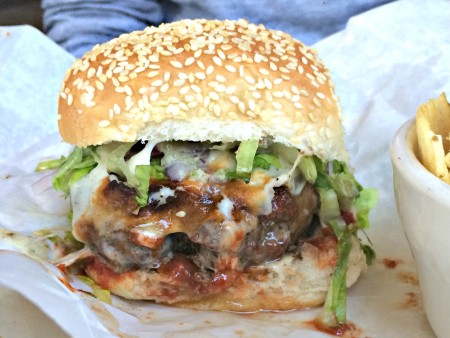 In the last few weeks, the words Speedy Romeo became a lot more common in the New York food scene. What was until now a slightly under-the-radar pizza destination has become the target of every foodstagramer in town thanks to a new location opening on the Lower East Side. As I mentioned last week, I'm trying to hit as many Brooklyn burgers as I can before I leave the borough for Manhattan, so the original Speedy Romeo in Clinton Hill was a no-brainer.
Burger Ordered: Cheeseburger
The Taste: Speedy Romeo's cheeseburger comes wrapped like a present. It's even better than a present, because there's a pickle on top of the gift. I'm all about sesame seed buns right now, and the one on this burger didn't disappoint.  The Speedy Sauce gives the burger a bit of the fantastic flavor that tops Speedy Romeo's amazing pizzas.
Speaking of which, I tried one of their pizzas as an appetizer (which is totally okay to do and completely responsible) and it was fantastic. The burger comes with a side of chips, which is a relief because if you're eating a burger as well as pizza (and wings, if you're there on a Wednesday) than French fries are probably overkill.
The Verdict: It's no wonder this place was able to expand. It's a gem in the Clinton Hill GBZ.
Speedy Romeo is located at 376 Classon Avenue in Brooklyn, New York.
Sign up for Burger Weekly email updates!