The Perfect Burger to Compliment Your Walk on the High Line |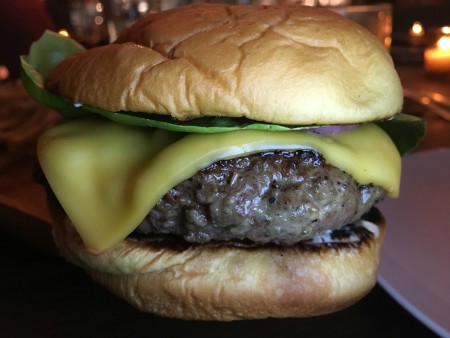 I appreciate the simple things in life. I like a bar burger, I like a cheap burger, and I love when those two things come together. While you can't exactly call the burger at the new Chelsea restaurant Sons & Daughters cheap, it is very reasonable given the quality of the meal and pricing of the rest of the menu. Let's get into it, shall we?
Burger Ordered: The .S|D. Burger
The Taste: Comprised of a Piedmontese and chuck blend patty, American cheese, LTO, horseradish mayo, house-made pickles and a potato roll, this burger really hits the spot. It's the perfect size and flavor for a late-night bar burger, and it's simple enough that no combination of it and pre-meal drinking will freak out your stomach. The horseradish mayo really sets it off, as there's just the right amount of it on the burger. I love dipping my fries in mayo too, but these thrice-cooked french fries are so flavorful they actually don't need any dipping.
The soft pretzels are also noteworthy. They are incredibly savory, covered in gooey cheese and just dusted with a bit of dill. I'm not sure if my love of dill has been chronicled before, so I'm making it known here. I am in a special relationship with dill.
The Verdict: Between the excellent burger, the awesome fries, and the stellar pretzels, you can't go wrong with a night at Sons & Daughters.
Sons & Daughters is located at 85 10th Avenue in Manhattan, New York.
Sign up for Burger Weekly email updates!