A Burger Cool-Down on the Hottest Day of the Year |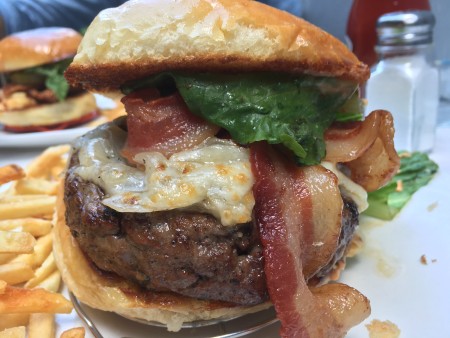 The burger is a food for all seasons. But when it's 100 degrees outside, it's difficult to sit down to a big, greasy hunk of meat. Because of that, SoCo really had its work cut out for it when I visited the restaurant on the hottest day of the summer. 
I had been to SoCo once before, and while I didn't order the burger on that visit, I'd always remembered that it looked delicious and hoped I'd make it back someday. So on this visit, when burger and crispy fries hit my table, I was eager as ever to chow down.
Burger Ordered: The B54 Burger
The Taste: The burger is named for the B54 bus that services the restaurant. It is comprised of a grass-fed patty, topped with white cheddar cheese, bacon, and lettuce on a rich, buttery, toasted bun. The parmesan dusted fries on the side were cigarette-level addictive.
I don't mean to snooze on the beef, since the patty is the centerpiece of any burger. But the real standout here was the bun. Even though I was worried about a carb-induced coma that could cause me to fall asleep in the middle of a crosswalk, I had to eat every last bite of the bun on both the burger and the chicken sandwich that I ordered as well. I am now fighting the urge to get these Eli's Bread buns on a regular basis. And since my reigning favorite burger bun ever is no longer available, we just might have a new champion.
The Verdict: SoCo is another Clinton Hill gem, with a good burger made notable by its outstanding bun.
SoCo is located at 509 Myrtle Avenue in Brooklyn, New York.
Sign up for Burger Weekly email updates!