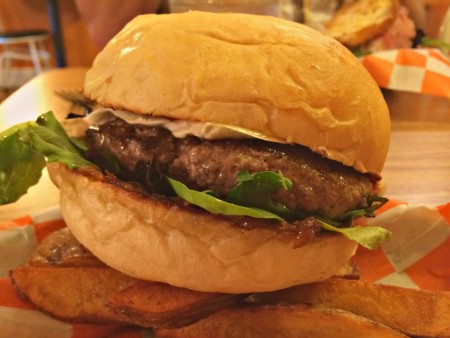 Smoke on the Water just crossed their two-year anniversary, and I should've been there before recently, but alas, it was not to be. Co-owner Ed Mann is a Charlevoix native and his wife Julie is from St. Paul, but both had a dream to open a restaurant when they retired in Charlevoix. They make everything from scratch, and smoke all their own meat, including chicken, turkey, brisket, pork butt, salmon, and even do special requests. I had a special request of my own – make me a really good burger.
Burger Ordered: Bacon Jam Burger
The Taste: This is a 1/3 lb. beef burger adorned with brie cheese, on top of a bed of arugula in between soft burger buns, and smeared with bacon jam. I love that they kept the number of toppings to a minimum, as it allows the brie and the bacon jam to really stand out, and they certainly do. The sweetness of the jam is nicely offset by the brie, and the beef was perfectly cooked. The truffle fries on the side were a nice addition, but I wanted there to be more of them.
The Verdict: Awesome burger here, and one that is dangerously close to my office. I like burgers that do something different but not off the wall crazy, and this one definitely accomplishes that. I'll get this one again.
Smoke on the Water is located at 103 Park Avenue in Charlevoix, Michigan.
Sign up for Burger Weekly email updates!