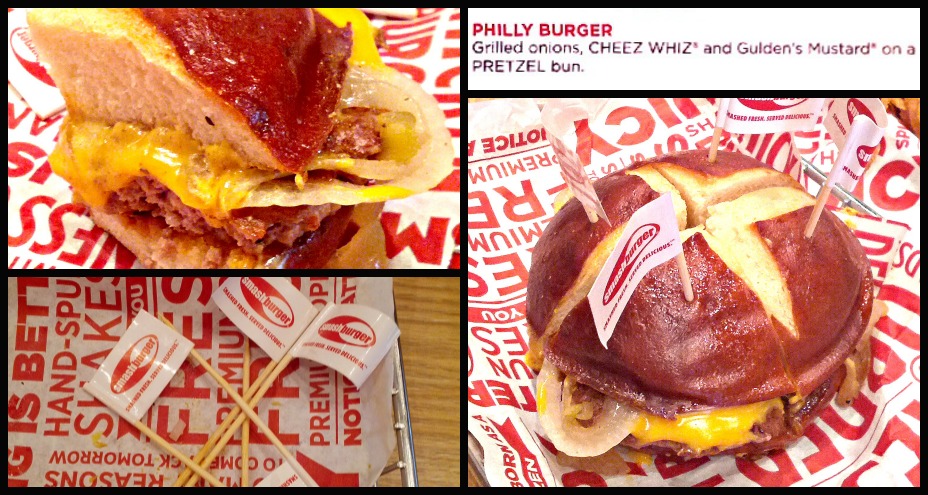 The Experience: I had the privilege of attending a special preview of the new Smashburger restaurant opening in Radnor back in August (though Burger Weekly is just getting around to sharing this review now). It's in a pretty easily accessible location right on Rt 30 (Lancaster Ave) not far from where the road intersects with 476. As a Bryn Mawr College graduate I wish that this place was open when I was in school! I think they're going to do a pretty good business there! To give you an idea of what kind of establishment this is, let me recall a conversation with my mother.
Me: I went to this event at Smashburger, it's a new burger place. It's kinda like 5 guys – but better.
Mom: So it's a fast food place?
Me: Yeah.
Mom: So it's fast food, does it have a drive-thru like McDonalds?
Me: No, it's like a Five Guys
Mom: So would you say it's like Wendy's?
Me: No, it's like Five Guys
Mom: Do they have free peanuts?
Me: nooooooooooooo
My point is that it's like a Five Guys – did you get that? Their interior has a trendy feeling – like a 5 guys. Their burgers are actually good – like a Five Guys. What makes it better than a Five Guys? The toppings.. and sides. I don't know of any fast food place that has fried pickles – other than Smashburger. The fried pickles alone would sway me to hit up a Smashburger over any other option. To be fair I think I would compare Smashburger more closely to Shake Shack in terms of trendy-goodness but Mom wouldn't have understood that reference as she's not from around here.
Burgers Ordered: The Philly Burger and the Truffle Mushroom Swiss Burger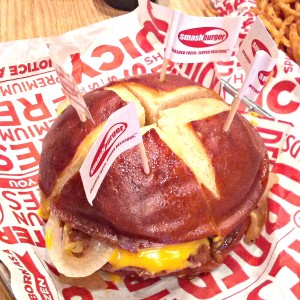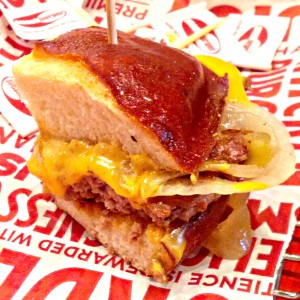 The Taste
: The burgers were awesome. The meat at Smashburger is certified Angus beef. I'm not sure how most fast food places do it but at Smashburger the meat starts off raw (I always have the image in my mind that McDonalds meat starts off as fully-cooked patties). They take these loosely formed meatballs and "smash" them on a piping-hot griddle. The burgers are cooked in a very short time, searing in all the juices and fat. This makes for an amazingly tasty, juicy burger. You'd think that they would stop with that – a tasty, juicy burger (like Five Guys). Maybe add some bacon? Call it a day? Nope. Their burger is then dolled up with all sorts of toppings and themes.
My favorite was by far the "Truffle Mushroom Swiss" burger. It had truffle mayo, mushrooms and swiss. The combination of the truffle mayo and the mushrooms was a decadently rich taste. This is one of those burgers that you'll be craving a week later. This is what sets Smashburger apart from its rivals. You're not going to find Truffle Mayo at a Five Guys, or a McDonalds or even a Shake Shack.
This TMS burger had a lot of competition to be my #1. In a close second-place was the Philly Burger. Every one of the Smashburger restaurants has a special burger that honors local flavors. The Philly burger didn't disappoint – grilled onions, and whiz on a pretzel bun. You've won over my Philly heart. Oh my, I will have a hard time choosing between the two the next time I visit.
The Verdict: At the end of the day I would totally recommend you visit a Smashburger. Their burgers and sides are the best of the best, bar none. If I haven't won you over yet then let me tell you that their milk shakes are BALLER. A delicious way to end a fantastic meal!
You can read more of Stephanie's Burger Adventures at Burger Club Philadelphia.
Smashburger is located at 550 East Lancaster Avenue in Radnor, Pennsylvania.