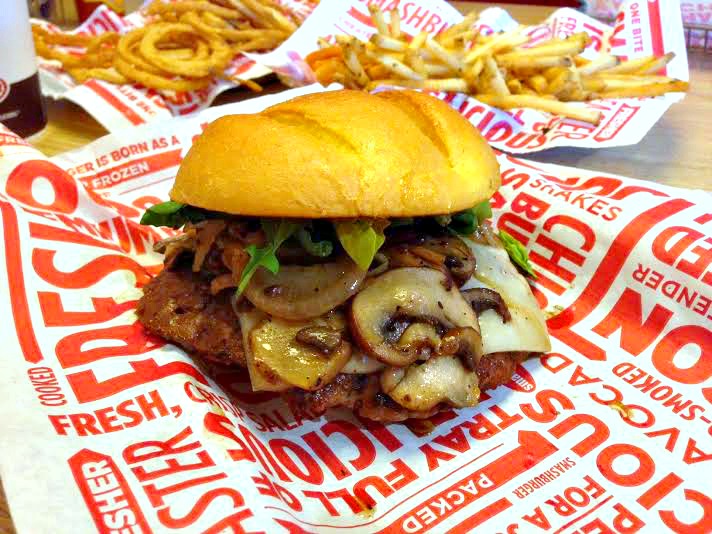 The Experience: I've had the opportunity to do a few events with Smashburger in the past and they are always a crowd favorite. Not only do they have a variety of unique burgers and ingredients for the choosing, you get a good bang for your buck as you'll leave full without paying an arm and a leg. I'm a fan of the option of going meatless via their house made veggie patties or subbing chicken for beef. They even give you the opportunity to supplement your meal with veggies versus fries, though I think their Smash Fries infused with rosemary are hard to pass up.
I've been to a few locations over the years and the staff is always a young and cheerful bunch welcoming you with open arms as you enter. They have digital boards for you to scope out the food, but I prefer using one of their takeout menus and really examining what I'm about to eat. I knew I was getting one of their regional options, but wanted to have my table-mate order something different so I could have the best of both worlds.
Burger Ordered: OC Burger
The Taste: You have your pick of regular or big and I immediately ordered the larger of the two since we were sharing. The only thing that changes about your meal is the patty, everything else stays the same… even the bun. I would think more meat would also have more bread allowing you to tackle the beast in a more sophisticated manner, so be warned – things are going to get messy.
The burger comes loaded with sautéed mushrooms, arugula, grilled onions, and Swiss cheese before being tucked between an egg bun smothered in truffle mayo. Hopefully you know your dinner companions well because you're going to be sharing the scent of your meal for at least a couple of hours if you're in close proximity to another human being. When they tell you that there are mushrooms on top, they aren't lying as my serving was spilling over into the basket. Because of the combo of both onions and mushrooms, things can get a little oily after a while, but it wont stop you from mowing down on it like it's your last meal on earth. The cheese holds everything together nicely making sure most of what you're consuming stays in tact, but I think the regular size would have been more of a manageable choice in this instance.
The Verdict: It's a good burger, but I would do the OC representation a little differently. I'd skip the sauteed options and stick to fresh arugula, avocado, tomatoes and maybe add a citrus slaw to tie it all together. But that's the beauty of Smashburger – you can always go the "create your own" route and choose whatever fits your mood and stick it between a bun. Your imagination and possibilities are endless!
Try one of the three Smashburger restaurants in Orange County for yourself with new locations opening in Irvine and Buena Park soon! 
Mission Viejo: 1003 The Shops At Mission Viejo, Mission Viejo, CA 92691
San Clemente: 806 Avenida Pico, San Clemente, CA 92673
Aliso Viejo: 26541 Aliso Creek Rd., Aliso Viejo, CA 92656
Read more of Ryan's reviewing adventures or follow him socially on Facebook, Twitter and Instagram.
Looking for your next favorite burger spot? We know just the place. Visit
Yelp
to get the local scoop!