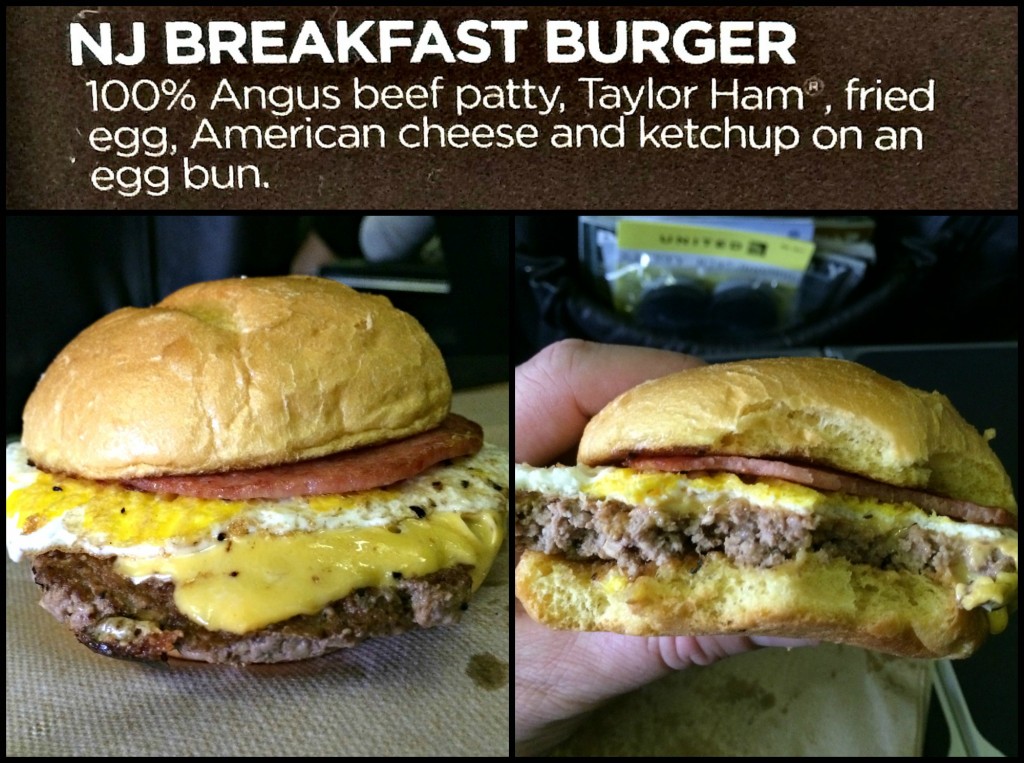 The Experience: The nice thing about having burger-loving friends who are very active on social media is that you often get to wake up to photos of hamburgers on your Facebook and Instagram feeds. That very thing happened a few weeks ago when I woke up and saw this photo on Rev Ciancio's Burger Conquest IG. I was very excited when I saw this for two reasons: First, it was a delicious looking burger that made me want to have breakfast immediately. And second, the photo meant that the Newark Airport Smashburger had finally started serving a regional burger unique to them. Rev was kind enough to send over a few more photos and tell me a bit about the burger.
Burger Ordered: The NJ Breakfast Burger
The Taste: The burger is topped with Taylor ham, a fried egg, American cheese  and ketchup, and served on an egg bun. Rev said that the beef taste was very strong, the predominant flavor throughout the burger. He took bites of it both upside down and right side up, and found that the experience of each was completely different. Rev is the Director of Marketing for Burger Maker and the man behind Burger Conquest, so you know you can trust his opinion on the subject.
The Verdict: If my opinion of a hamburger isn't enough for you, Rev is the first person I'd want you to ask for a recommendation after me. He says the NJ Breakfast Burger is tops, and thus it must be believed.
Smashburger is located at Newark International Airport, Terminal C, Level 2, Gate 130 in Newark, New Jersey.
Read all of Rev's burger musings at Burger Conquest.