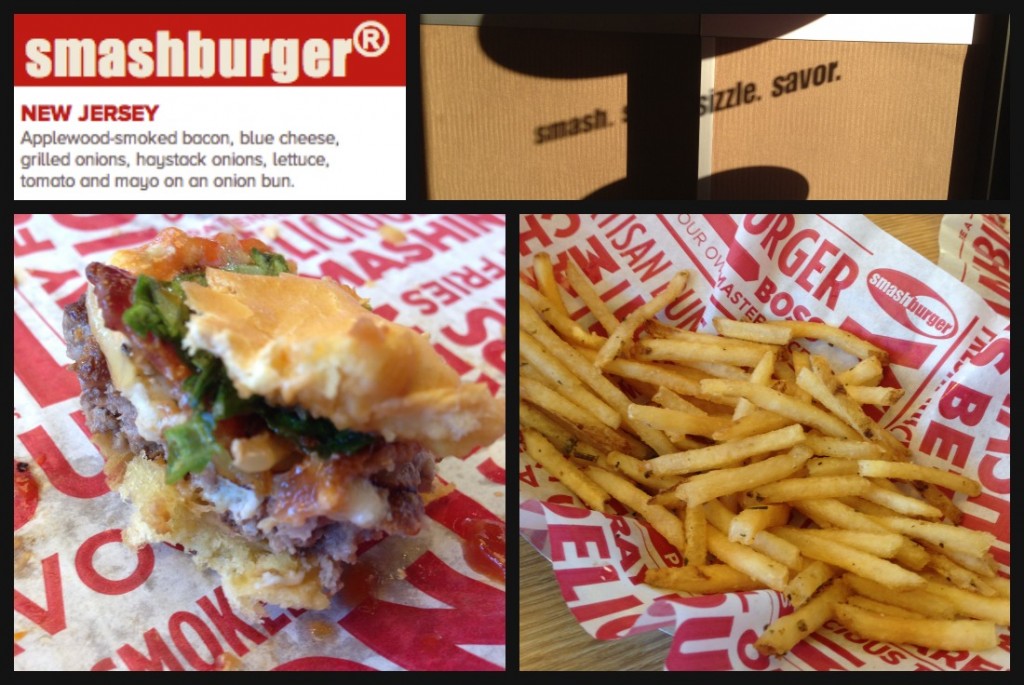 The Experience: My wife, son and I hit Smashburger in East Hanover, New Jersey tonight for their "New Jersey" burger, a virtual feast listed on the menu as containing Applewood-smoked bacon, blue cheese, grilled onions, haystack onions, lettuce, tomato and mayo on an onion bun.  After placing our order and taking a seat, our meal was brought in under 10 minutes by a very friendly server.  This is truly fast food. The question I wanted to answer was, does it TASTE like fast food?
All sides are a la carte. We got one order of fries, one order of haystack onions with a pepper-like dipping sauce, and an order of the Smash Fries.
Burger Ordered: The New Jersey Burger
The Taste: The fries are all matchstick thin, and the Smash Fries are especially good with a strong rosemary flavor. A thick, chocolate Haagan Daaz shake rounded out my son's meal, and was very good. The heart of the review, however, is whether this regional burger named for the garden state is any good?  The answer, in my opinion, is not really with some qualifiers.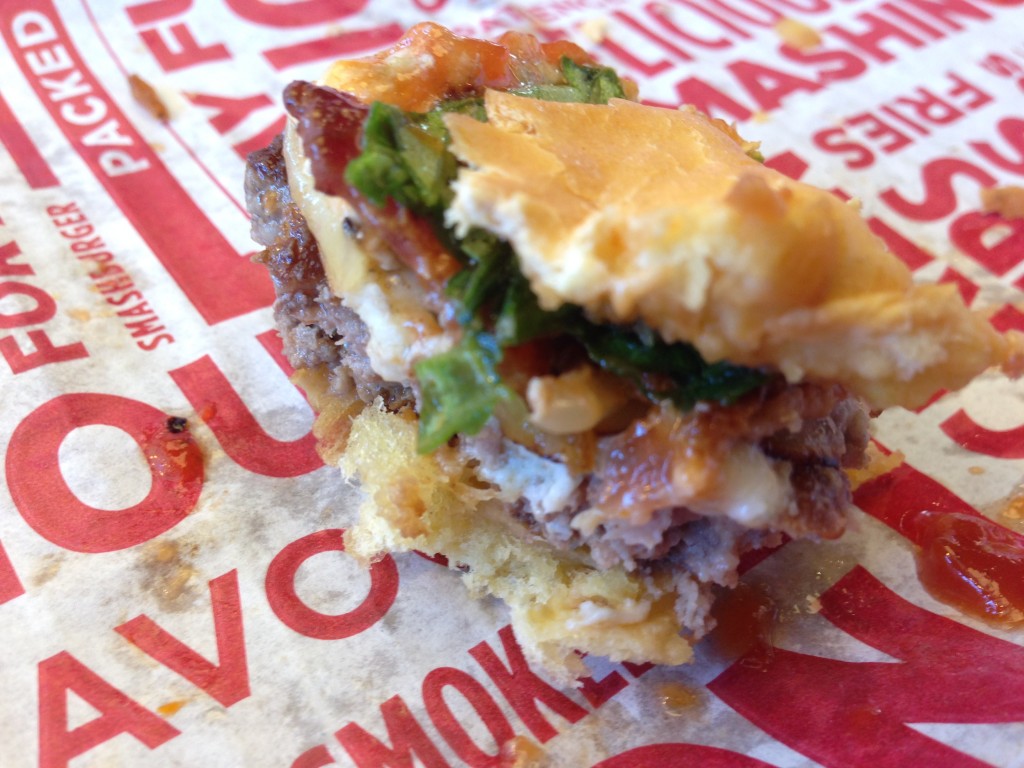 Breaking down the toppings, I found that the blue cheese, the part of this particular burger that should really stand it out as different, had fairly little taste. It certainly didn't offer the creamy, intense taste that blue cheese normally has. The bacon was very good–crisp and tasty. The onions were understated, and I don't actually think I got any of the haystack onions on my burger (although we did get a side order of them).  The bun was good; solid and soft, but firm enough to not fall apart.
However, the patty has problems, and they're the same problems that I've had with other Smashburger locations.  A fairly generous 6.5 oz "smashed" patty of beef, the patty has the texture of a McDonald's Quarter Pounder.  It's sort of soft and artificial feeling.  The taste, also like the Quarter Pounder, is mostly beef, grease and salt.  A lot of salt.  In fact, several hours later, I can still taste the salt.

The Verdict: I can't really recommend the New Jersey burger at Smashburger.   My wife got the portabello and truffle oil burger with toppings that added fairly good flavor. The toppings on the New Jersey burger are a nice idea, but somewhat bland, and the patty is a highly salted flattened chunk of meat that overwhelms everything else anyway.
Smashburger is located at 366 State Route 10 West in East Hanover, New Jersey.