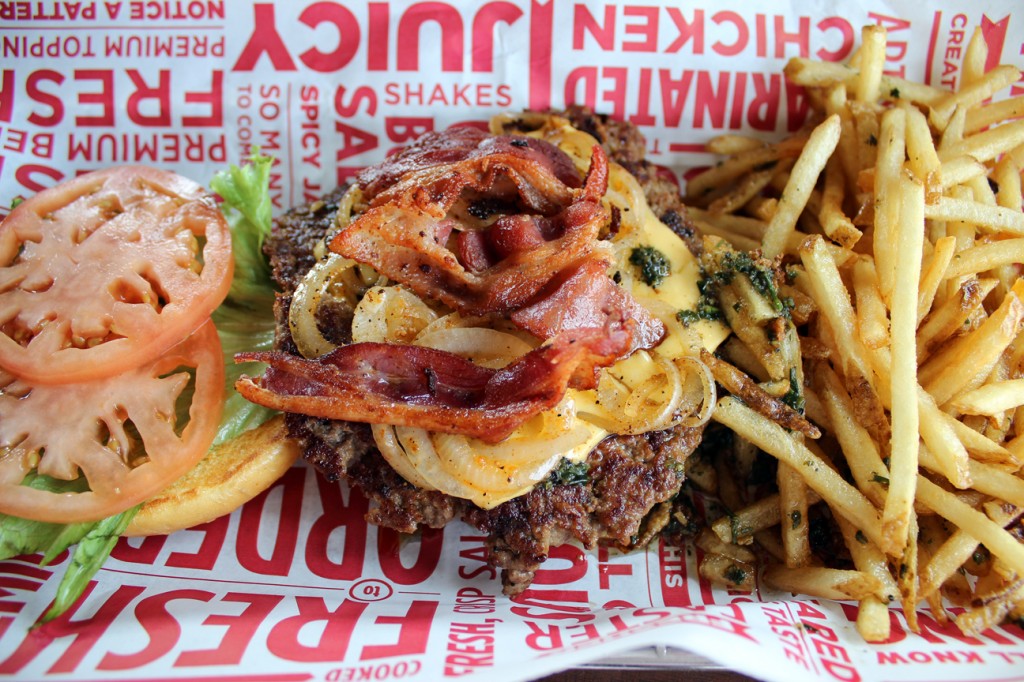 The Experience: Shreveport-Bossier, located in the northwestern corner of Louisiana, is about as far from New Orleans as you can get without leaving the state. By comparison, Shreveport-Bossier is a two-hour drive from Dallas, Texas and a five-hour drive from the Big Easy. So, it makes sense that New Orleans' Smashburger locations have the NOLA Burger and the two locations in Shreveport-Bossier have a different locally inspired burger, the Louisiana Burger. The Louisiana Burger is served open-faced and topped with American cheese, applewood smoked bacon, Cajun grilled onions, remoulade sauce, lettuce and tomato on Smashburger's egg bun.
One side note: Folks often joke about the close resemblance between Smashburger's logo and the logo of video game retailer, Gamestop. The Smashburger in Bossier City is located next door to a Gamestop, which made me do a double-take the first time I drove past. Those really are two strikingly similar logos!
Burger Ordered: Louisiana Burger
The Taste: The dominating flavor of the Louisiana Burger is that of the Cajun remoulade sauce, which is somewhat spicy. A mayonnaise-based sauce that is given a kick by Cajun spices (cayenne pepper and Louisiana-style hot sauce are usually involved), remoulade sauce really works its magic on this burger. Without it, the burger would still be above average, but wouldn't necessarily say "Louisiana," in my opinion. While I'm not really sure that I'd agree that grilled onions are Cajun in any way, they tasted great with bacon and melted American cheese.
My only complaint is that grease from the grilled onions, beef patty and bacon slices combined to make the burger much greasier than I'd expected.
The Verdict: In Louisiana, we usually see remoulade sauce served alongside fried fish, crab cakes, boiled shrimp or fried green tomatoes. I really enjoyed it as a burger topping, even if it was perhaps the only ingredient on the burger that evoked Louisiana cuisine. As someone who strives to eat at non-franchise, local restaurants as often as possible, I have to admit that Smashburger makes uncommonly good burgers and killer fries. I wish that I'd ordered some extra remoulade sauce to dip those rosemary and olive oil fries in. Altogether, the Louisiana Burger will not disappoint fans of big, indulgent burgers.
Smashburger is located at 7503 Youree Drive in Shreveport, Louisiana.

Check out my blog at www.20×49.com if you'd like to learn more about the food scene in northern Louisiana.