The Experience: Eat it Kansas City covers the latest news, reviews and topics regarding the local cuisine scene. The blog was born three years ago because I couldn't stop talking about food – and stuffing my face with it. I never call myself a foodie, or use the word nom – but I am passionate about food and the entire eating experience. Being born and fed in the Midwest, I believe in supporting local restaurants and businesses within my community. Kansas City has a diverse food culture so there's no shortage of variety on the blog (or in my diet). As such, I was asked by Burger Weekly to report on the Kansas City spin on the local Smashburger.
Burger Ordered: The Kansas City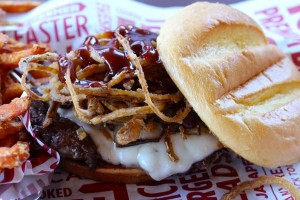 The Taste:
 Smothered with A.1. Steak Sauce, melted Swiss cheese, crispy haystack onions, grilled onions and sautéed baby portabella mushrooms, the Kansas City Smashburger is a full of flavor and texture combinations. A sweet smokiness is prominent throughout, with hints of tanginess due to the sauce. Strings of cheese combine with crispy fried onions for the perfect combination of crunch and savory gooeyness.
The Verdict: The Kansas City Smashburger is bold and savory, not to mention visually appealing. However, shouldn't a burger named after and served in one of America's biggest barbecue cities contain some of the sauce we're so famous for? What's with the A.1., Smashburger? 
You can read more of Shanley's culinary adventures at Eat It Kansas City. Follow her on Twitter too!
Smashburger is located at 15241 West 119th Street in Olathe, Kansas.