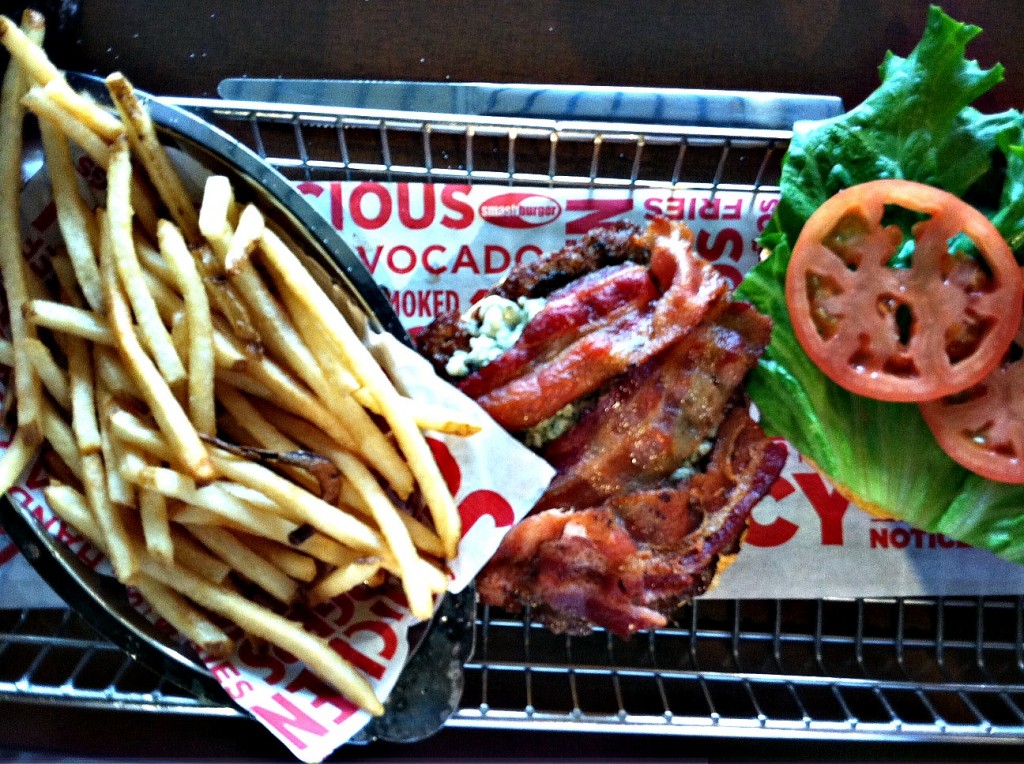 The Experience: With only one Smashburger in the state of Iowa, it's definitely a treat to have it in the same city as me. It's one of those joints that reminds you of Z'mariks, or Noodles and Company. It's a hip, quick service counter, sit down kid of restaurant. Your meal is brought to you, and you leave your dirty dishes on the table and a waitress or waiter will come by and pick up your messy napkins. In my opinion, it's much better than ordering a fast food burger. It has a little bit more of a freshness than something out of a paper sack. Smashburger now has the ability to take your order online, and prepay so when you step up in to their store you just say your name and voila! Your lunch, or dinner is ready for you!
Burger: I'm in Iowa, you see a menu item that's name after your state, you gotta order that. You know it's going to represent all the goodness that your state has to offer and with Iowa two things come to mind – Maytag Blue Cheese and by god, the might strips of heaven, BACON. To be proper the menu says: Maytag Blue Cheese, applewood-smoked bacon, haystack onions, lettuce, tomato and mayo on an egg bun.  Now, I read the menu quickly because I knew the mission I was on – to get the Iowa burger. I had thought I read that the burger came with an egg *on the bun. That's a note to take, Smashburger. Throw a fried egg on this Iowa burger and you'll have an ever better masterpiece!
Summary: The Iowa burger is about as Iowan as you can get. For a quick order, and a place that is called "smash" burger, the burger was actually good. I always think that the quality isn't going to be as good if someone is going to smash my burger because then all the goodness oozes out, right? Well, not necessarily when you have bacon, and Maytag blue cheese between the buns it's just right.
Smashburger is located at 1821 22nd Street West Des Moines, IA 50266
To read more of Nick's Fooodster adventures throughout Des Moines, visit the Des Moines Foodster, and follow him on Facebook, and Twitter.