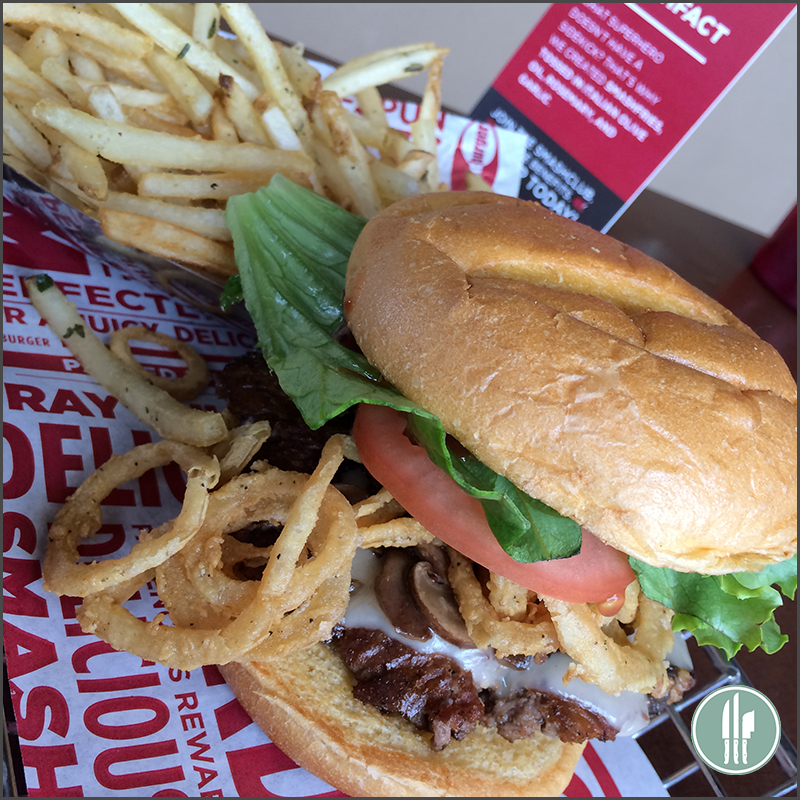 The Experience: Omaha, Nebraska, located in America's heartland, is a city speckled with local and national fast food and burger chains. While everyone has their favorite burger joint, Smashburger is winning the hearts of residents. With two locations in the Omaha metro area, Smashburger has a variety of unique burgers to chose from and one specifically that features local flavors – the Husker.
Burger Ordered: The Husker burger, a 100% Certified Angus Beef burger is smashed, seared and seasoned to order. This local favorite features A1 steak sauce, a heaping stack of fried onions, freshly sautéed cremini mushrooms, aged Swiss cheese, lettuce, tomato and mayo, and is served on a fresh egg bun. We ordered the burger with Smashfries – shoestring fries freshly fried and tossed in olive oil, rosemary and garlic.
The Taste: Once we received our order, our mouths immediately began to salivate. We could taste how delicious it was by just looking at the fried onions pouring out the top and the A1 sauce running over the side. After we wiped our mouths and stopped drooling, we finally took our first bite. The haystack of onions added a nice crunch and a distinct sweetness and paired well with the smokiness from the A1 sauce. The Swiss cheese was gooey and mild, and its nutty flavor was great with the earthy taste of the sautéed cremini mushrooms. The burger itself had a nice crunch, was salty and sweet and soaked up the complementary flavors of all of the toppings like a sponge. The highlight of the burger was the egg bun. It was soft, had a nice chew and added a much needed soft texture to the burger.
The Verdict: The Husker at Smashburger in Omaha is pure burger bliss! The burger's layers were distinct and with each bite you could taste a new dimension of flavor. While this burger on the surface seems simple, the ingredients create a complex flavor profile and make it hard to put down. We've had a lot of burgers on our foodie journeys and this one is definitely in the top five.
Smashburger is located at 7204 Jones Street in Omaha, Nebraska.
To read more of Tyler's culinary adventures, visit the Nebraska Foodie, and follow him on Facebook, Twitter.