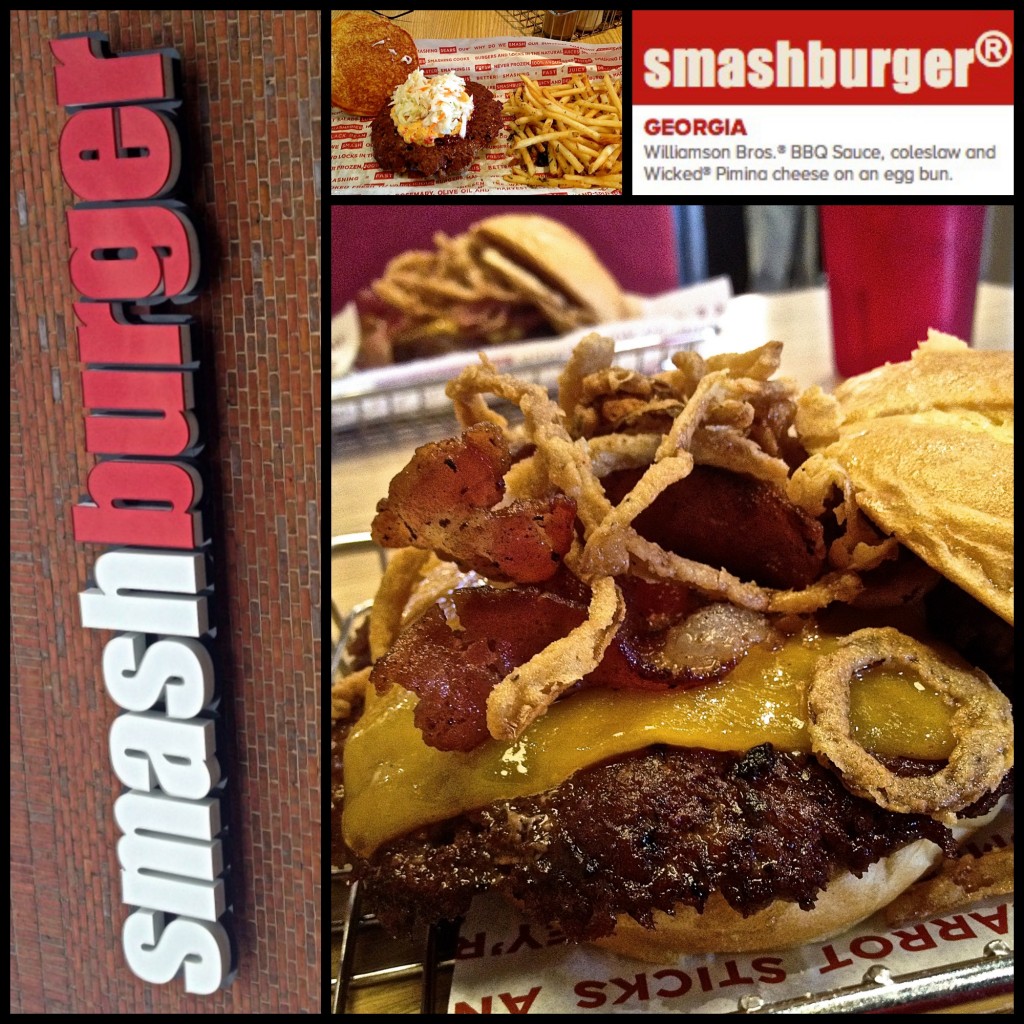 The Experience: Primary objectives first: it is important to mention our preemptive encounter with this Franchise. Months ago, we had a "less-than-smashing" Burger drizzled in "Peach Syrup." If that sounds appetizing to you, rethink the astringency between peach and beef. Sweet meat, regardless of the harmonic assonance, will only propel your business so far. During our recent rendezvous, there was a drastic alteration in savor.
Since this snack shack is franchised, they are allotted some liberty with their menu. Here in Georgia, they respectively chose the Williamson Bros BBQ Sauce Recipe as adhesion for specific items. However, they initially mixed it (ratio unbeknownst to us) with "Peach Base," a molasses-like solution used for their Floats. Experiencing this awkward, twangy cohesion of flavor during our preliminary visit, we had no intention of ever returning. When you first taste this addendum to classic BBQ, it is almost intriguing. However, the intrigue is short lived, and you may lose your appetite. Sweetness can be unsettling, especially at Hamburger Temperature.
As if by divine intervention, we found ourselves "Smashing" once more. Walking in, we stared at the brand new, luminescent rotary menu. Trying to avoid that peach-wich from before, we questioned the cashier about the epidemic. He lamented to admit their fault, informing us that they had rid themselves of said grotesqueness. Ecstatic, we both ordered, and opted for the "Smash" size option: bigger than average.
Burgers Ordered: The Georgia Burger and the BBQ, Bacon & Cheddar Burger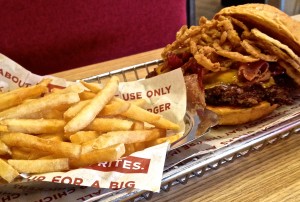 The Taste: In perfect time and with immaculate presentation, Smash served up two of their finest oval-shaped, flat-pressed, meaty morsels. Sharing fries (simple, crisp, and salted to perfection), we palmed our lunch and relished in its delight. Personally, I ate the perimeter of BBQ, Bacon & Cheddar Burger's Angus, supporting the egg bun with haste, slurping out any haystack onions choosing to interfere. Pausing in unison, we gloated the premier benevolence of the owner's decision to drop "Princess Peach." I honestly cannot iterate, emphasize, or proclaim the rare feeling of complete content overwhelming me at my last swallow. Not crazy nor necessarily unique, Smash has proven their worth in our quest; if you are looking for fast, filling, tasty burgers, this is place is "Peachy Keen."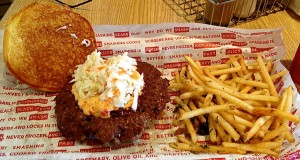 Don't judge a book by its cover or a burger by its condiments. Outside the "Smashburger Realm," anything garnished in coleslaw or pimento cheese is no-thanks-I'm-stuffed territory. But here, in this restaurant, Newton's Law does not attest. As if by some synergistic trifecta, the zest begot by slaw, pimento, and BBQ can only be referred to as fantastic. We also highly applaud their Premium Oreo Milkshake, what a great finale to such a memorable scene.
The Verdict: Not crazy nor necessarily unique, Smash has proven their worth in our quest; if you are looking for fast, filling, tasty burgers, this place is "Peachy Keen."
Smashburger is located at 440 Ernest West Barrett Parkway in Kennesaw, Georgia.
You can read more of Bacon & Swiss' Burger Adventures by clicking here.