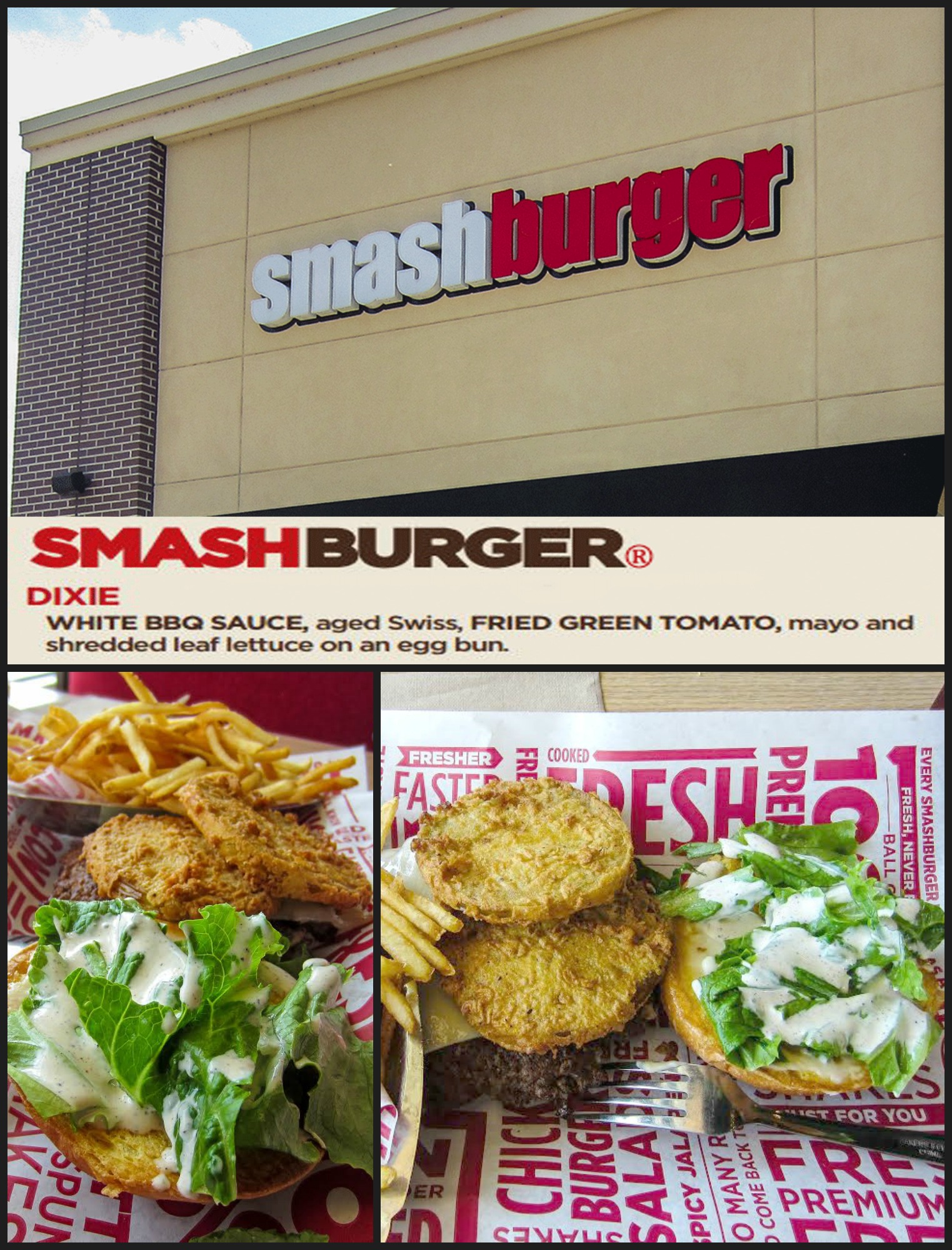 The Experience: Recently, when Brad contacted me to check out the new Smashburger, as the Editor-in-Chief at "The Brown Bag Review.com," I jumped at the opportunity. Having passed the innocuous location of the new Smashburger in Madison, Alabama several times in the recent past, my wife or I would always comment, "Wonder what kind of burger joint that is." After our visit I can honestly tell you the answer to that question is, "It's one helluva burger joint!" Since visiting the Smashburger we continue to extol its greatness to all our friends and our acquaintances in the local Foodie Group.
On the day of our visit we arrived shortly before noon. I wanted to see what kind of lunch business Smashburger was doing since that is a always a good indication of its popularity. We walked in and while there were maybe ten people or so sitting at tables and booths, we were the only customers in line. The young lady named Cierra at the register promptly welcomed us to Smashburger and asked if this was our first visit. I guess the deer-in-headlights look that both my wife and I had on our faces might have be a clue that we were Smashburger newbies. Cierra told us to just take our time and if we had any questions to please ask. In the meantime, a couple of more customers came in and we let them go ahead and order while we mulled over the menu items. We finally placed our orders and found a booth, and shortly the meals appeared at our table brought out by the cheerful Smashburger staff.
In the meantime the lunch crowd hit and within 15 minutes of our arrival there was a line out the door, the dining room was beginning to fill and even the outside tables were filling up. Unfortunately, some of the tables were in the direct sunlight and folks shunned away those. I guess it's time for them to break out the umbrellas if they want people to enjoy their visit.
Burger Ordered: Dixie Burger
The Taste: While the Dixie Smashburger may have a strange combinations of ingredients on it, they all play nicely together. The white BBQ sauce is unique to North Alabama, having been made famous by such renowned barbecue restaurants as Big Bob Gibson and Greenbrier Barbecue. It is a concoction of mayo, vinegar, black pepper, cayenne pepper, corn syrup and horseradish, or in other words, all of the good stuff. Normally, here in North Alabama white sauce is traditionally served on smoked chicken, but lots of folks also like the taste of it on pulled pork barbecue so it's only natural that folks are gonna like it on a burger.
The Smashburger patty was cooked to perfection with the crispy edges similar to what you would get with a skillet-fried burger, and to my taste buds was what I like in a burger. With the added punch of two large slices of fried green tomatoes, aged Swiss cheese, mayo, shredded leaf lettuce and the white BBQ sauce, it put the Dixie burger over the top. To make all of this down home goodness even better it was served on an egg bun. What's not to like about this combination?
The Verdict: Slap me silly and call me a Dixie Smashburger fan, because I loved this combination of oddball flavors. It beats the socks off of the Five Dudes burgers, which to date had been the reigning custom burger joint in our area. Since the closest Smashburger is about 45 minutes away, we always plan our trips now to include lunch either on the way or coming back. It's just that good!
Smashburger is located at 8135 Highway 72 West (Target Shopping Center) in Madison, Alabama.
For more of Dave's Burger Adventures, check out the Brown Bag Review.