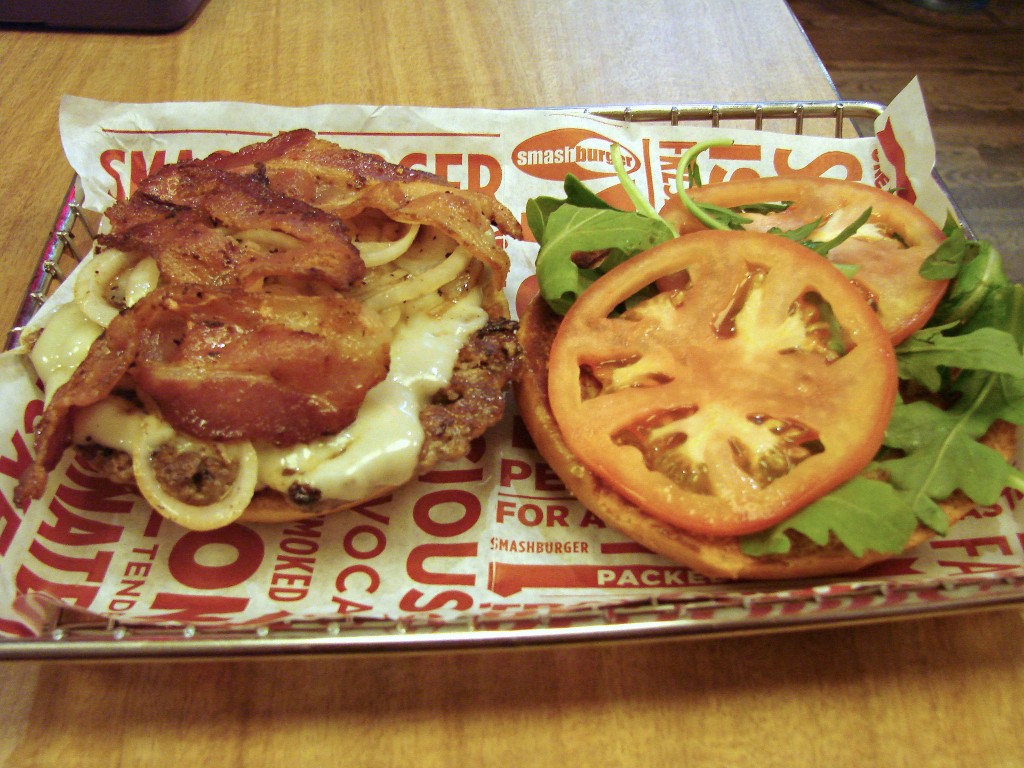 The Experience: From Ship to Shore teamed up with Burger Weekly to review D.C.'s regional specialty. I confess I had never been to a Smashburger before. Throughout my time there, I was pleasantly surprised by pretty much every aspect of the chain: the modern and cheerful design, the way the burger is first served to you open-faced, and of course, the incredible taste.  Smashburger has won me over.
Burger Ordered: The Capital
The Taste: So. Good. The most important thing to note about this burger is how fresh everything tasted, from the arugula to the bacon to the bun, you know you're eating quality ingredients.
Now on to the specifics. The Capital is topped with mayo, tomatoes, baby arugula, applewood-smoked bacon, grilled onions, and aged Swiss, all on top of a perfectly-cooked Smashburger on a Brioche bun. Yes, it's as good as it sounds. The bacon on top of this burger was just right. It was cut thick, it wasn't too chewy, and it added a great smokiness to the burger. The baby arugula was peppery and tender, and paired with the tomato slices it perfectly counteracted the heaviness of the bacon and mayo. Swiss cheese was a good way to go, especially since it always tastes great with grilled onions, which offered just the right amount of sweetness. The patty itself was fantastic, juicy but not too greasy. Last but not least, the brioche bun did the job and was yummy, if not anything too special.
The Verdict: While I feel that there are some better burgers around DC (check out Good Stuff Eatery or Central Michel Richard if you want to get fancy), the Capital Smashburger definitely ranks near the top. If you're ever in DC and looking for a solid burger, check it out!
Smashburger is located at 1739 Connecticut Avenue NW in Washington D.C.
You can read more of Hannah's culinary adventures on From Ship to Shore.