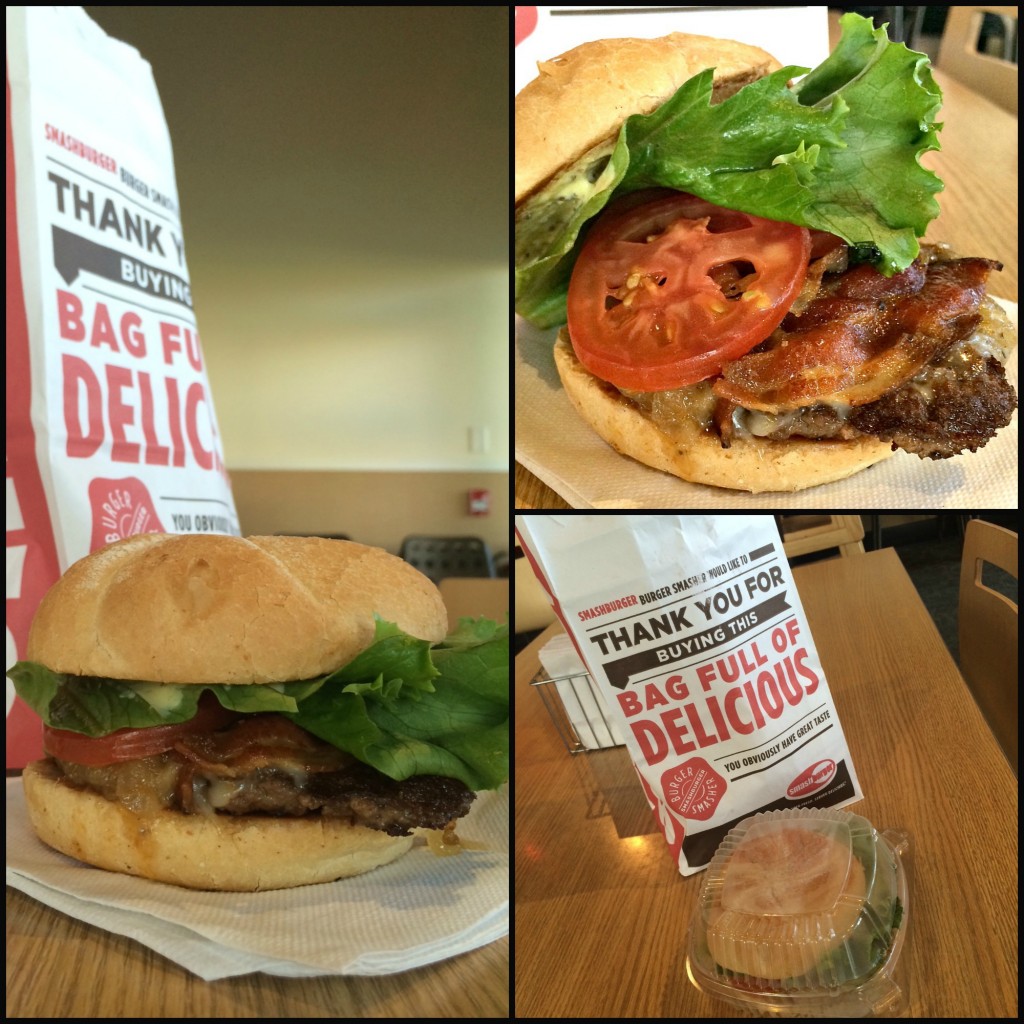 The Experience: Calgary is a town that truly loves beef. We call ourselves "Cowtown" for that very reason. We love cows and we love eating them. We even have a week once a year where we celebrate the love of beef ….in the form of the burger that is. When Smashburger came into Canada for the very first time 2 years ago, it chose Calgary to be its debut city. It's no surprise that Smashburger choose Calgary given the profound love we have for beef. It was great knowing that they would have a dedicated burger just for our city and showcase what they think is Calgary- in burger form.
Burger Ordered: Calgary Burger
The Taste: It consists of Montreal seasoned grilled onions, pepper jack cheese, applewood smoked bacon, lettuce, tomatoes, and Dijon-mayonnaise on a Kaiser roll. The burger itself is well balanced. The Montreal seasoning was just the right amount where it didn't over power the sweetness of the onions. The applewood bacon was cooked just right and had a wonderful smokiness to it. The lettuce and tomatoes gave it that freshness that every decent burger needs and the Dijon-mayonnaise had the right amount of tang that it rounded up the burger so well. What's also impressive was that the beef patty was cooked to perfection. It was slightly charred on the outside but moist on the inside. I also enjoyed the softness of the Kaiser roll, though I might want to go with an egg bun for my next visit, as I'm a sucker for brioche type buns.
The Verdict: The Calgary Burger at Smashburger was delicious. It was well executed and well balanced. It's definitely a burger that you can enjoy eating without feeling over stuffed. I also like the fact that they respect their burgers, look at the take out container they provided me. Now that's some serious burger love.
Smashburger is located at 2770 32nd Avenue N.E., Calgary, Alberta, Canada.
You can read more of Anna's Burger Adventures at Anna's Appetite.