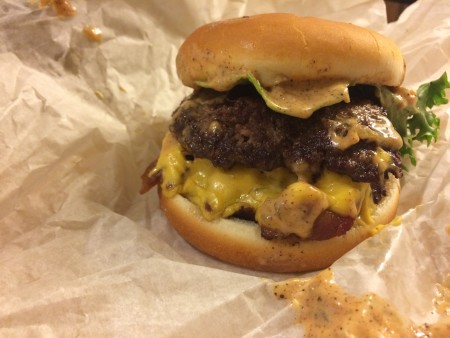 I've been asked to review Slabtown Burgers many times in my tenure as Northern Michigan Burger Correspondent for Burger Weekly. This is a cool place just on the outskirts of downtown Traverse City that has a real hipster vibe to it. It's a cool building that definitely used to be a house, and it gives the interior and exterior a uniqueness missing from many restaurants. They also serve a local branded soft drink from my friends at Northwoods Soda, and that's always a plus.
Burger Ordered: Slabtown Special
The Taste: Slabtown Burgers take their namesake seriously, and they serve up handmade hand pattied burgers and fresh cut fries made on site every day. Amongst the many menu options, I went with the Slabtown Special, a double burger with American cheese, lettuce, and Slabtown Sauce. It also comes with grilled onions, but I swapped in bacon because onions are blah. They offer several different bun options, and while I was tempted with a pretzel bun I just kept it basic so I wouldn't be distracted from the burger. And this is a tasty burger. The beef is obviously fresh but not particularly seasoned. The lettuce and cheese were what I expected, and I'm not sure what the Slabtown sauce is but it's definitely good. I got tater tots, because I love tots, but kind of wish I had tried the fries instead.
The Verdict: Overall I feel like the hype machine may have gotten to me for this one. I thought the burger was good but not mind-blowing, and while I'd go back to try another burger from the extensive menu I wouldn't make a special trip.
Slabtown Burgers is located at 826 W Front St. in Traverse City, MI
Sign up for Burger Weekly email updates!