Burgers Ordered: Skillet Burger
The Experience: Former New York Burgermeisters Rob and Jenny continue their Ohio Burger Adventure Series with a trip to Skillet. Skillet boasts and extensive and ever-changing menu of Rustic Urban Food (R.U.F.).  Lucky enough to be at Skillet on the right day, Rob and Jenny ordered the Skillet Burger, made of custom Ohio proud grass fed beef (bottom round, brisket, short rib, and deckle). Topped with Skillet Sauce, arugula and a fried Holistic egg, the Skillet Burger is served on a brioche bun.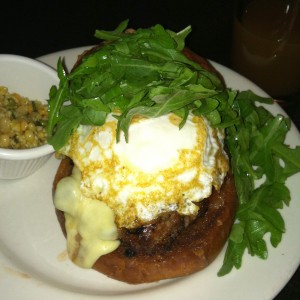 The Taste: Jenny said that the burger was good, but not as great as it looked on the menu.  The condiments and bun were amazing but overwhelmed the meat, which was disappointing given that it was a short ribs/brisket blend.  Rob gave it style points for being unique, but said that overall it was lacking compared to the other delicious food of the day at Skillet.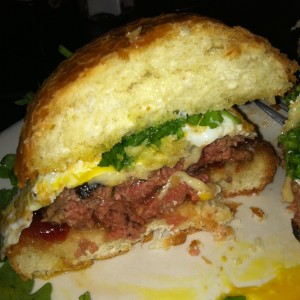 The Verdict: Though it looked good on the menu and on the plate, our Ohio Burgermeisters said that they'd be hard pressed to give the Skillet Burger a recommendation, especially when the rest of Skillet's menu is better.
Skillet is located at 410 East Whittier Street in Columbus, Ohio.