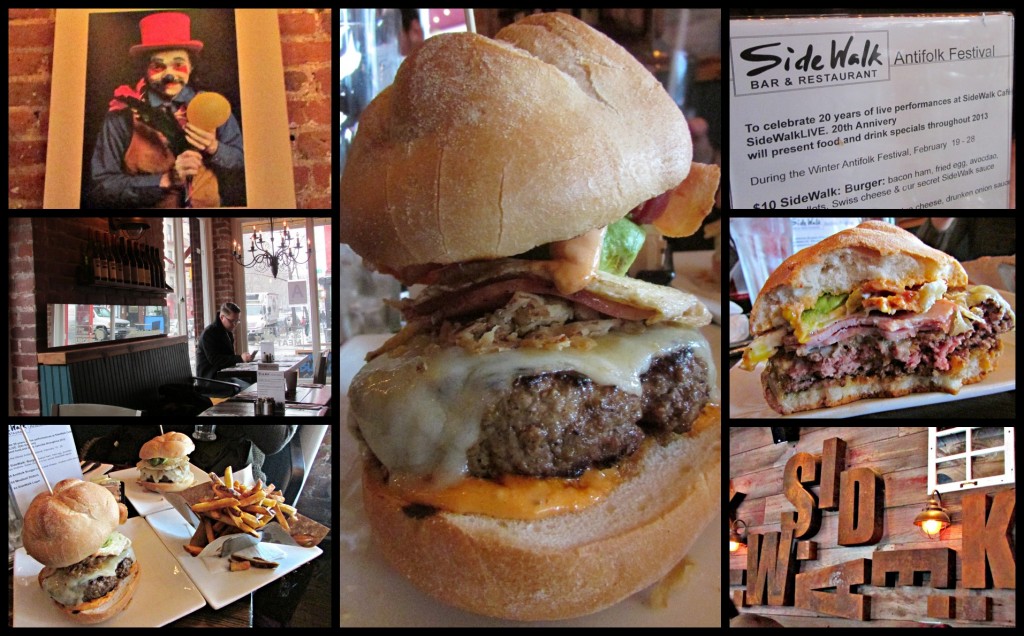 Burger Ordered: The Sidewalk Burger
The Experience: The winter of 2013 has so far proven to be one of met expectations and pleasant surprises. The latest pleasant surprise came in the form of Sidewalk Cafe. Sidewalk reinvented itself in 2011, with an aesthetic renovation that makes the place stand out without being anything of an eyesore, and a newfound focus on delicious food at a reasonable price. The center of this food-focus is the Sidewalk burger, a mountain of a meal featuring a hefty patty, bacon, ham, avocado, shallots, swiss cheese, and a fried egg, topped off with Sidewalk sauce on a kaiser roll. Though intimidated at the pure height of the brunch-time burger, the Burgermeisters dug in with gusto.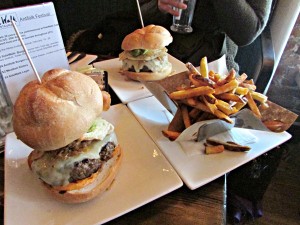 The Taste: Upon first bite the roll tasted slightly dry and the burger seemed destined to be a messy chore. The second bite proved this to be completely untrue. The genius of this burger, beyond its perfectly cooked patty, is the way the roll soaked in the egg, allowing its devourer to enjoy every last bit of every ingredient. The bacon and ham complimented both each other and the patty, without any one meat delivery system overpowering its companions. The Sidewalk Sauce gave the burger a fun kick, proving that spicy mayonnaise belongs on pretty much everything.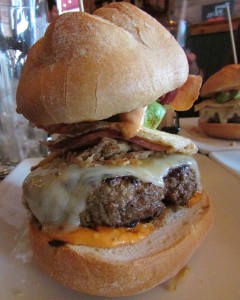 If there was one negative to the Sidewalk Burger, it was that the avocado slices were very thick, making an already stacked burger more difficult to bite than is necessary. Luckily, a forceful squeeze of the top bun toward the plate put that challenge to rest. The fries were also delicious, well done in all the right places with just the right amount of salt.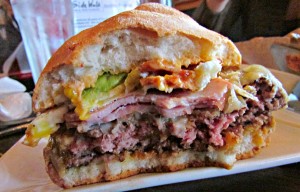 The Verdict: The Sidewalk Burger was an instant winner, its delicious food and low prices convincing the Burgermeisters that Sidewalk Cafe should be spoken in the same breath as other staple burger joints in New York City. Sidewalk Cafe's menu is littered with unique and intriguing burger options (eight-ounce Wild Boar Sausage patty… WHAT?!), so Burger Weekly recommends repeat visits.
Sidewalk Cafe is located at 94 Avenue A at East 6th Street.