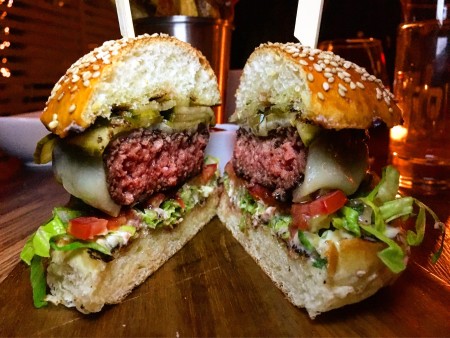 I really love the fries at Atwood. I really love the Brussels sprouts at Atwood. I really love the burger at Atwood. So when the Atwood team opened Shay & Ivy, I was there in a heartbeat. This place couldn't be more different than Atwood. The decor has a much more feminine bent to it, and while the menu is decidedly more sophisticated, certain favorites have carried over from Atwood.
Burger Ordered: The Shay & Ivy Burger
The Taste: The grass-fed beef patty is topped with aged white cheddar cheese, a heaping helping of house-made pickles, LTO, and garlic aioli. The brioche bun kills it, just like it does at Atwood, as does the Strassburger patty. But while Atwood's bar=burger style situation is topped with bacon and onion jam, this burger displays a lighter, more delicate approach. The vegetables are a more pronounced element, and the aioli really stands out. I was very happy to see that the fries from Atwood were available here as well.
The Verdict: When chefs who love burgers try something new, their passion shines through no matter what. That's happening at Shay & Ivy, which gets an easy recommendation.
Shay & Ivy is located at 29 West 24th Street in Manhattan, New York.
Sign up for Burger Weekly email updates!