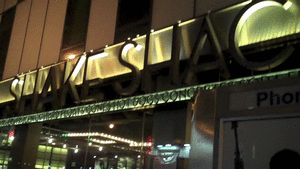 Take Me Home Tonight
Burgers Ordered: Matt – Double Cheeseburger; Brad – The Stack Burger
The Experience: What is there to say of a place that's been reviewed more time by New York burger-eaters than any other burger joint in the history of burgerism?   Probably nothing you haven't read before.  However, the Burgermeisters wouldn't feel right about Burger Weekly if they didn't make it to Shake Shack in their first year.
It was pouring when Matt and Brad met at the theater district installment of Shake Shack.  Both were dressed nicely, having just come from work.  Though Shake Shack is something of a short-order joint, the Burgermeisters were not alone in their professional dress.  The multi-location burger spot obviously offers something appealing to burger lovers from all walks of life, as one can rarely go to a Shake Shack without waiting in line for a significant amount of time.  The Burgermeisters were lucky on this night, as the rain kept the line reasonably short.
Sadly for Brad and Matt, the rain also encouraged Shake Shack patrons to stay at their tables for a long period of time.  After seeing that there would be nowhere to sit, the Burgermeisters asked the cashiers if it would be possible to make their orders "to-go."  Accommodations were easily arranged and the Burgermeisters brought their food through the pouring rain to Brad's apartment.
Taste: After a short walk, the food was still warm upon reaching Brad's Hell's Kitchen apartment.  Matt's double cheeseburger, topped with the works and accompanied by fries and a cold beverage, was greasy enough to bleed through his cardboard container.  No matter though, as the Burgermeisters had absconded with plenty of napkins and Brad is never very nervous about the state of his apartment.
Matt blew through his burger in no time.  Brad had warned him that previous trips to Shake Shack had left him with a post double-burger bellyache, but Matt was undaunted and got the Double Cheeseburger anyway.  He said that his cheese tasted fantastic and that although the meat was cooked more thoroughly than he liked he was happy with the taste of the patty.  The power of Shake Shack's doubles reared its ugly head when Matt was completely unable to finish his fries.  The Second Stomach was no match for the 1-2 punch of two Shake Shack patties.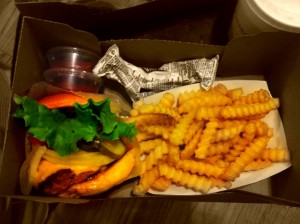 Double Cheeseburger
Brad went into this Shake Shack meal trepidatiously.  His last couple of outings to Shake Shack had ended with the aforementioned stomach troubles. As such he opted for a single burger, but for the first time ordered the Shack Burger, a patty with the works topped with Shack Sauce.  He enjoyed the taste thoroughly and was delighted to see that his patty actually had some pink on it.  Though Shake Shack advertises that all of their ingredients are fresh and cooked to order, the patty very much does not typically fall under this rule.  Brad didn't actually ask for his burger medium, but that's how it came and it made him happy.  He liked the taste of the bun quite a bit, even though it was a soggy mess by the time he got home.  The Shack Sauce also made him happy, and it made him finish his burger in record time.  No Slow-Down Burgers at this meal.
The disappointment for Brad was with the fries.  Normally Brad is very fond of the Shack Fries.  On this night they tasted as though they'd rubbed up against bacon, giving it a taste that wasn't bacon-flavorful, but rather a bacon-tease.  He was quite put out about it.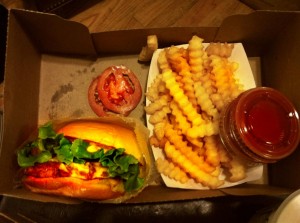 The Verdict: Most of you reading this probably already know what a Shake Shack burger tastes like.  For those that don't, it's a fun experience if you can handle the long lines.  The food isn't the best you'll ever have, but for the price it's a solid if greasy burger.  The fries are normally a lot better than the ones the Burgermeisters had on this Burger Adventure, but now you know you might be gambling with them.  Finally, the shakes here are as good as just about anywhere.
Shake Shack is located at 691 8th Ave at 44th St, as well as at:
11 Madison Ave at 23rd Street
154 E 86th St between Lexington & 3rd Ave
215 Murray St between West St & North End Ave
366 Columbus Ave at 77th St
There's also a Shake Shack in CitiField and one coming soon to 409 Fulton Street in Brooklyn