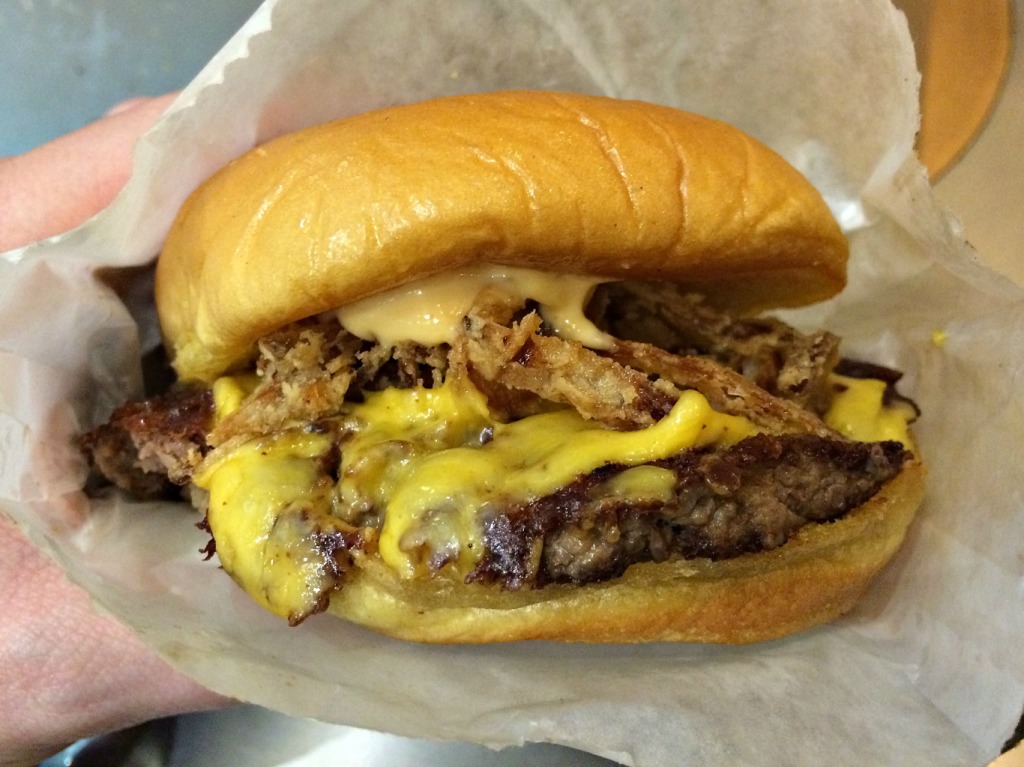 The Experience: Every time I write about Shake Shack I feel the need to start by putting the chain down a little bit. This time around, I'm not going to do that. Last year Shake Shack celebrated its tenth anniversary as a stationary building in Madison Square Park, and earlier this week it joined the IPO class of 2015. I want to help them celebrate their success. After all Shake Shack is New York City's hamburger pride. The midwest has Steak 'n Shake, the south has Whataburger, the west coast has In-N-Out, Jack in the Box, and Carl's Jr. Shake Shack was born and bred in New York City, and I for one am happy to see it expanding across the globe.
Shake Shack is celebrating themselves by putting out a special Shackmeister Burger, no doubt named for the Burgermeisters of Burger Weekly. It will be served for a limited time in 2015. I have a rule about not eating burgers inside the same restaurant more than once (that I break only rarely under very special circumstances), but luckily for me there are ten Shake Shack locations in New York City currently serving the Shackmeister Burger. I moseyed over to the Grand Central Station outpost, plunked down my seven dollars, and prepared to celebrate Shake Shack's success.
Burger Ordered: The Shackmeister Burger
The Taste: Before I get to the taste, I want to point out that Shake Shack has done a really amazing job at staying relevant despite only serving three different types of beef burgers (the original Shack Burger, the Smoke Shack, and the Shackmeister Burger). The Shackmeister is a 100% all-natural Angus beef patty topped with cheese, crispy marinated shallots, and ShackSauce. The bun is the standard Shake Shack fare, but on my Shackmeister it was buttered like mad before it was put on the grill. It turned this burger into a greasy love letter to gluttonous burger fans who want intense flavor over gourmet polish. The bites that included both shallots and ShakeSauce were far and away the best, and without the Rabbit Food that is typical of a Shack Burger, it gave this a unique taste worth making a special trip to your neighborhood Shack.
The Verdict: Be a good New Yorker and celebrate Shake Shack's success with a Shackmeister Burger, before they're gone.
Shake Shack is located at 49 Grand Central Terminal in the Lower Level Dining Concourse in Manhattan, New York.