Burgers Ordered: Bar Congress Burger
The Experience: A couple months back, I overheard some of my coworkers talking about their favorite burgers in town. As most "best burger" conversations go, each person had his/her own opinion, and as I recall, no two answers were alike. Most of the burgers discussed I had tried, but there was one that I hadn't had the pleasure of consuming – the Bar Congress Burger at Second Bar + Kitchen.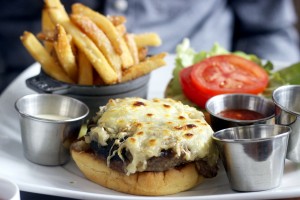 Second Bar is an upscale urban establishment located on the vibrant and quirky Congress Avenue. In addition to providing its patrons with "Natural American" cuisine, Second Bar boasts an assortment of craft beers and artisan cocktails. They only have one burger on their menu (unless you count the Short Rib Sliders), but that's really all that they need.
The Taste: Introducing…the Bar Congress Burger – a patty made of house ground brisket and chuck, shallot confit, Gruyere, greens, tomatoes, horseradish pickles. I feel I should also take time to note the add-ons that they have available with this burger. We're not talking $0.50 or $0.99 extras here. The options include seared foie gras, over-easy egg, avocado, crisp pork belly, and double meat double cheese. As tempted as I was by the egg and the pork belly, I refrained so that I could enjoy the burger in its natural state. To dress the burger, I was presented with 3 tins filled with housemade condiments – dijon mustard, ketchup and cracked pepper mayo. I've never had a taste for mustard, so I went with my usual red and white combo. However, I did find it necessary to at least give the housemade dijon a try. I could totally appreciate the vibrant flavor and the wasabi-like heat in it that cleared my sinuses, but…still not a fan of mustard. Maybe one of these days…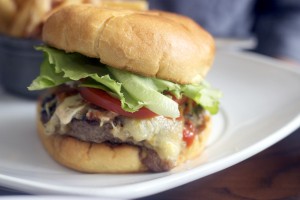 This burger was beyond what I could've imagined. I would've taken a picture of the middle of the burger, but once I started eating it, I couldn't stop. The patty was cooked to a perfect medium and had an incredible char on the outside that was…whoa. I think my wife asked me a couple of times for my thoughts and the only thing I could come up with was, "Mmmm…delicious". The Gruyere was earthy and rich (and wonderfully melted), the veggies were immaculately fresh, and the shallots delivered a sweetness that only an onion can deliver. Every ingredient seemed purposeful, not extravagant or unnecessary. Even the horseradish pickles that appeared haphazardly strewn on my plate…there for a reason. And the fries…oh, the fries… So maybe it cost a little extra to upgrade to these truffled beauties, but let me tell ya, it was well worth it. Coated with a fine dusting of Grana Padano and served with a side of truffle aioli for dipping, these pomme frites were decadent. I could only handle so much of the aioli, but had no trouble cleaning up my little cast iron vessel of fries.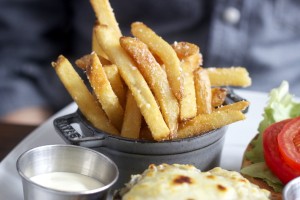 The Verdict: As I went about the rest of my day, I kept the Bar Congress Burger close on my mind. So much so that I think I irritated the wife a little with my random ramblings about the burger. But the way, I look at it, she has nobody to blame but herself – she's the one that took me there. Second Bar + Kitchen is a casual, refined tavern with an array of libations and delectable eats – perfect for meeting up with friends and perfect for enjoying one of the best burgers in town.
Be sure to check out the Burgervore, Tim's Texas burger project.
Second Bar + Kitchen is located at 200 Congress Ave in Austin Texas.