The Big Schnipp Makes Moves Downtown |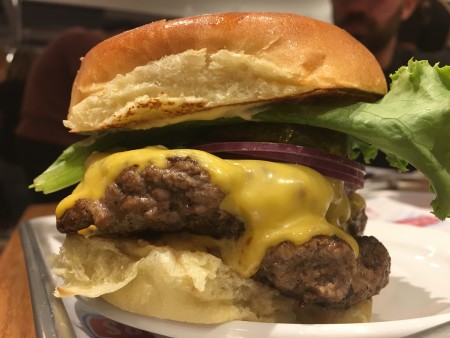 Schnippers, a restaurant that I consider to be the only real competition to Shake Shack for NYC counter-style burger dominance, just opened its fifth location. I went down to Church Street to try out a few of the new menu items that have popped up since I last paid them a visit.
Burger Ordered: The Big Schnipp
The Taste: The downtown location is the only one to serve the Brie Happy TriBeCa Burger, which is topped with melted brie, plum tomatoes, red onion, and herb mayo. I encourage those with a taste for bruscetta to give that a try, but I wanted something a little more traditional. The Big Schnipp is 10 ounces of beef topped with LTO and American cheese. It's everything you want from a monster burger.
I was so full after eating it that I almost passed up on eating any sides, but then my better judgment prevailed. The fries at Schnippers are solid, but the onion rings are really off the chain. They're some of the best I've ever had.
The Verdict: The more Schnippers the better. It's as simple as that.
Schnippers is located at 120 Church Street in Manhattan, New York.
Sign up for Burger Weekly email updates!